FiOS1 News Weather Forecast Long Island Weather: Rain & Raw, 
We started out today where we finished last night and that is with low clouds, patchy fog, a raw breeze from the northeast and temperatures in the 40s to near 50. We have some more rain to get through today and the radar is pretty solid to the west. The issue is how much of that slides in here later today and this evening. It should be enough to produce another quarter to a half inch of rain on top of the quarter to a half inch we have seen so far.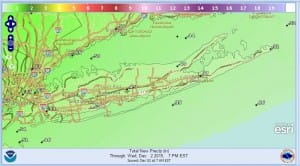 This should put the 2 day total to around an inch or so. What I'm hoping for is perhaps a little bit more than that if those rains can hold together.
There is still a pretty impressive look on the satellite loop with that strong upper low to the west basically driving moisture up the east coast. We really haven't seen anything quite like this in awhile where the Gulf of Mexico is wide open and sending moisture up. At least that is a switch from the pattern of the last 6 months where the Gulf of Mexico was bascially cut off.
Temperatures Wednsday are going to be tough to figure because of the marine layer being stubborn especially from New York City north and east. If we make mid to upper 50s it won't be until late this afternoon or evening when the cold front approaches and we briefly go to a south wind (if at all)
Here is the FiOS1 News Weather forecast from Meteorologist Brian Fitzgerald
Thursday will be cooler with highs in the low 50s on average. Then its dry Friday through Sunday with some sunshine each day. Highs in the 40s to near 50.
Models are showing low pressure moving up the coast early next week but still rather short on the details regarding strength. This would be another shot for a solid rainfall if it plays out right. This would be for perhaps Monday night into Tuesday.
CLIMATE MODELS WINTER FORECAST 
JOESTRADAMUS VIDEO ANALYSIS FROM TUESDAY
JOESTRADAMUS LONG RANGE POST TUESDAY
JOESTRADAMUS LONG RANGE POST FROM MONDAY
JOESTRADAMUS WINTER FORECAST 2015-2016