Finally Sunshine Returns Weekend Brings Raw Rainy Conditions
It seems like it has taken forever for this raw cloudy weather pattern to break but it has finally broken now that the last coastal low has moved out to the northeast. This has brought down some dry chilly air in for today but it won't feel too bad with sunshine back on the scene. Temperatures should respond by climbing to the upper 40s to lower 50s. The satellite picture shows that most of the clouds moved away overnight and we should have a good day overall. The radars have gone silent for today and tonight.
SATELLITE

REGIONAL RADAR

Skies should be clear for much of tonight with most lows in the mid to upper 30s inland and in the low to mid 40s warmer urban centers and along the coast. Friday brings a cold front through here but there won't be much for it work on. Look for clouds and a few scattered shower as the front passes later in the day. Highs will reach the middle to upper 50s.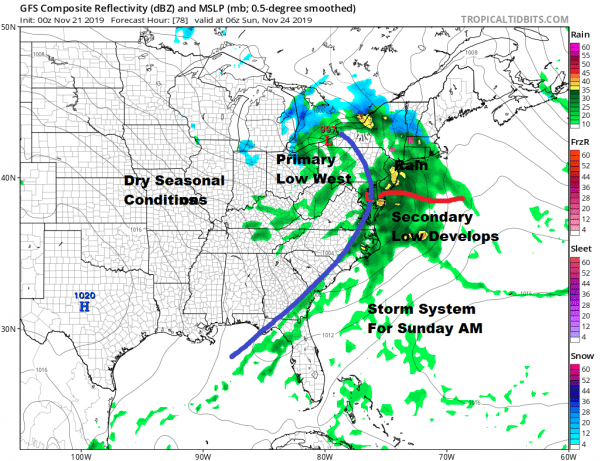 Weak high pressure builds in for Friday night and early Saturday but the high moves out fast. Low pressure moves northeast as it develops on the stalled end of the front. Clouds will increase on Saturday with highs mostly in the 40s. Rain should hold off until Saturday night as the low runs up into West Virginia and Western Pennsylvania and then redevelops off the New Jersey coast. That should keep the rain going into at least part of Sunday. Temperatures both Saturday and Sunday will likely be stuck in the 40s. The rain should be out by mid to late morning on Sunday and weather conditions should improve Sunday afternoon on a northwest wind and leftover clouds with some breaks of sunshine developing.
Next week is Thanksgiving week and weather models have been having some trouble figuring out how this is all going to play out. There is no real cold air around. On the other hand models were trying to show a ridge building along the East Coast however that doesn't seem to be playing out too well either. It still means that at least Monday and Tuesday should be two days of some sunshine with highs reaching into the 50s both days.

Low pressure coming out of the Rockies is destined for the Great Lakes for Wednesday and from there it is up the Saint Lawrence Valley in Eastern Canada. That means a cold front for us with some showers on Wednesday. Behind it Thanksgiving day could wind up being a windy but dry day with some sunshine. Wednesday's highs could reach the 50s to near 60 ahead of the front but only be in the chilly 40s on Thursday behind it.
MANY THANKS TO TROPICAL TIDBITS FOR THE USE OF MAPS
Please note that with regards to any severe weather,  tropical storms, or hurricanes, should a storm be threatening, please consult your local National Weather Service office or your local government officials about what action you should be taking to protect life and property.