February Ends March Arrives Cold But Dry Weekend Warm Up Next Week
Showers Arrive Tuesday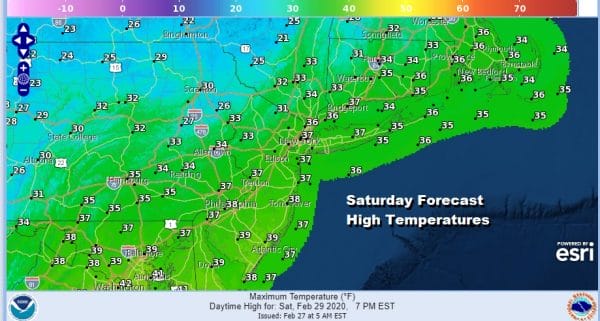 This is the last day of February and we will end much like they started with no snow. This month has seen minimal to no snow at all, not even a trace, being reported in areas from Northeast Virginia to Southern New England. it is indeed a rare occurrence that you don't see even a trace of snow but such is a winter when the polar vortex remains locked up in the Arctic for 2 months and there are still absolutely no signs of it breaking down.
SATELLITE

REGIONAL RADAR

The weekend is a cold dry one with sunshine for both today and Sunday. Highs today will be just in the 30s as the core of the cold air air mass moves in. Parts of upstate NY have been dealing with lake effect snow for the last few days with 3 feet or more in parts of North Central NY. That is winding down today though regional radars are still showing a few active bands going on.
Tonight should be clear and cold with most lows in the 20s with a few teens in cold spots. Sunday looks nice and sunny with high temperatures back up into the 40s in most places with upper 30s to near 40 north of NYC.
Next week it is about a slow moving cold front that has some waves on it. This will warm things up for the first have as the front stalls along the coast. Monday may start with some sun but clouds will arrive with highs in the 50s. Some passing showers are possible Monday night as the first weak wave goes by.
Two more waves follow and each one pushes the front closer to the coast until the last one goes by Wednesday night into Thursday. There will be a chance for showers on Tuesday though not a guarantee with temperatures reaching the 50s to near 60 and we will be in the mid 50s to lower 60s Wednesday until the last wave goes by and rain leaves us early Thursday morning. After that we should dry out going into next weekend though there are some possible issues developing there. We will explore those over the course of the weekend.
MANY THANKS TO TROPICAL TIDBITS FOR THE USE OF MAPS
Please note that with regards to any severe weather,  tropical storms, or hurricanes, should a storm be threatening, please consult your local National Weather Service office or your local government officials about what action you should be taking to protect life and property.