Fathers Day Weekend Underway Sunshine Warm Beach Weekend
Fathers Day Weekend Underway
Sunshine Warm Beach Weekend
We struggled all spring with trying to string together two nice days in a row. We are finally doing that over a weekend and it comes on Fathers Day weekend so whatever outdoor plans you have go right ahead with them. The satellite loop today looks nice and sunny across most of the Northeast and Middle Atlantic States. Humidity levels are nice and low. We should see highs in the 80s today. It will be a little bit cooler at the beaches with local sea breezes. The UV index is going to be high so be sure to sunscreen whether you are on the beach, at the pool, or just doing anything outdoors. Radars are going to be nice and quiet all through the weekend.
EASTERN SATELLITE

REGIONAL RADAR

Sunday is another winner of a day with lots of sunshine. The humidity technically will be a bit higher Sunday than Saturday  but the dew points will still be in the 50s so that is comfortable. Highs will be in the mid 80s to near 90 in some places.
SUNDAY FORECAST HIGHS
Monday will be brutal. Record high temperatures are possible and dew points will shoot up into the upper 60s and lower 70s. That is very uncomfortable. Temperatures will soar with highs in the middle to upper 90s. I would not at all be surprised to see someone hit 100 (Teterboro NJ, LaGuardia). There is the chance late Monday afternoon and evening that a pop up thunderstorm or two could develop by they should be scattered in nature and not until very late in the day.
TUESDAY GFS FORECAST 8PM 6/19/2018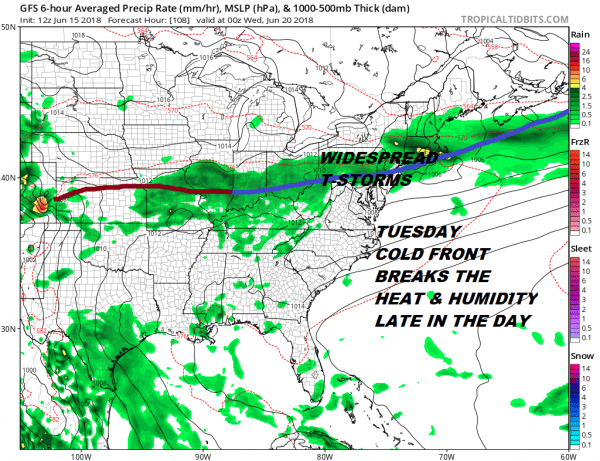 Tuesday continues to hinge on the timing of the next cold front. The longer it takes to move through the better chance we could see highs above 90. We will see some thunderstorm activity when the front comes through and it could be widespread thunderstorms. We will measure the threat of severe weather on Tuesday once we get into the models on Sunday. The European model is a bit faster with the front and it also stalls it out to our south which could make the second half of next week a bit problematic with waves of low pressure to our south. The GFS wants to push the front all the way south into the Carolinas which would mean nice weather here for the second half of the week. We shall see about this too as we get more information to look at.

GET JOE A CIGAR IF YOU LIKE 
FiOS1 News Weather Forecast For Long Island
FiOS1 News Weather Forecast For New Jersey
FiOS1 News Weather Forecast For Hudson Valley
LATEST JOESTRADAMUS ON THE LONG RANGE