FATHERS DAY WEEKEND HUMID SEVERE WEATHER MONDAY
FATHERS DAY WEEKEND HUMID SEVERE WEATHER MONDAY
Some downpours moved through the area this evening and now we wait until a warm front moves northward and through here on Saturday. Until then we will see lots of clouds overnight with fog and drizzle. There still could be the odd shower until daybreak when another round of showers and downpours are possible. Bear in mind not all areas are going to see downpours so don't be shocked in either direction. Temperatures overnight will be primarily in the 60s.
SATELLITE LOOP

REGIONAL RADAR

Radar shows downpours to the southwest of us as the first batch moves out to the northeast. Most of what is to the west should weaken but some will survive the trip overnight.
LOCAL RADAR NEW YORK CITY
LOCAL RADAR PHILADELPHIA

Saturday sees the warm front move northward so we will probably have changeable sky conditions and some breaks of sun are possible Downpours again will be scattered around particularly late in the day. Temperatures could reach the 80s across New Jersey & Southeastern Pennsylvania but they might struggle in the 70s north and east of New York City.
FATHERS DAY FORECAST HIGHS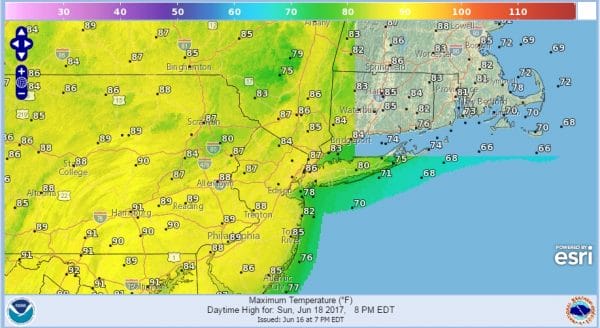 Fathers Day will be very warm and very humid and probably a decent beach day as clouds should break to allow for some sun. Thunderstorms could threaten in the evening but the day should be dry. More numerous showers and thunderstorms are likely on Monday and there is a threat for severe weather
For more on Monday's severe weather threat and the latest on 2 tropical systems with potential for development on JOESTRADAMUS's latest post.

GET JOE A CIGAR IF YOU LIKE 
FiOS1 News Weather Forecast For Long Island
FiOS1 News Weather Forecast For New Jersey
FiOS1 News Weather Forecast For Hudson Valley
LATEST JOESTRADAMUS ON THE LONG RANGE