Father's Day Sunshine Cool Air But There is Once Exception Week Ahead Outlook

Father's Day Sunshine Cool Air But There is Once Exception Week Ahead Outlook
Happy Father's Day to all the Dads out there and hope you have a great day doing what you want to do. Hopefully it includes being outside in the sunshine and cool weather however we wish to note one exception to this and that is over parts of Southern, Southeastern New England and Eastern Long Island where the western side of a low off the coast of Maine brought in some rain last night. You can see the rotation of the upper air system on the satellite and radar loops.
The loops do not show the rain backing any further west but we will keep an eye on this. Otherwise if you are generally from Coastal New Jersey and NYC westward it should be a partly to mostly sunny day. The low to the means that temperatures will remain cooler than average and the winds will continue to be on the gusty side especially along the coast. Most highs today will be in the upper 60s especially north and east of NYC and lower 70s south and southwest of Philadelphia.
SATELLITE

WEATHER RADAR

We have a cool night ahead of us under clear skies. Winds will drop off inland which may allow cold spots to drop into the 40s. Most lows overnight will be in the upper 40s inland and low to mid 50s in warmer urban locations. Monday will be a nice day with sunshine. We will still be dealing with a northwest wind though far less of one but that will help to take temperatures to the mid to upper 70s.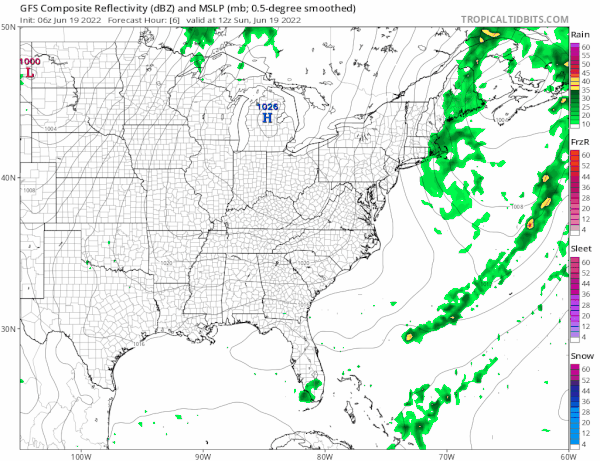 The week ahead leaves the much of the east in an interesting position and there forecast a forecast dilemma. The upper air storm to the east begins to pull away but part of it gets left behind offshore. To the west we have a strong upper ridge positioned in the central Gulf States which is too far west to bring heat into the Northeast and Middle Atlantic states.
This is going to leave us in a boundary zone between the two and that is usually where you wind up seeing showers and thunderstorms. The first round of risk probably comes late Tuesday and then we could see showers on and off Wednesday and even into Thursday. This makes temperature forecasting a bit of challenge. Along and east of that boundary temperatures will be in the 70s for highs but just to the west of it it will be well into the 80s and even near 90.
This is likely to last into Thursday. Models differ over whether the trough pulls out on Thursday or lingers into the weekend. For now we will lean to the idea that the trough mostly pulls away and only a weak piece lingers. That should allow for some improvement late week with temperatures back into the 80s everywhere. However I do not see heat coming for Eastern Pennsylvania to Southern New England anytime soon.
Please note that with regards to any severe weather,  tropical storms, or hurricanes, should a storm be threatening, please consult your local National Weather Service office or your local government officials about what action you should be taking to protect life and property.