Father' Day Weekend Cool Breezy With Sunshine Week Ahead Outlook

Father' Day Weekend Cool Breezy With Sunshine Week Ahead Outlook

It doesn't happen often but every once in a while, you get a day where the high temperature is recorded at 12:01am and that is the case today as temperatures at midnight were still in the low to middle 70s. We won't be anywhere near that today. The satellite loop shows the cold front from yesterday is well offshore but we have upper troughs rotating southeastward around low pressure setting up in Northern New England. As each trough comes through today we will have some clouds in the mix along with sunshine. However it will be the wind and temperatures where it will be most noticeable. Highs today will be in the upper 60s and lower 70s at best. Winds will be from the northwest and they will gusting to 30 mph or more at times. This is a day more like early May than late June but so be it.
SATELLITE

WEATHER RADAR

Other than the outside chance for a brief shower (mostly inland) and we do see some light ones on the radar loop, we expect it to be dry for the vast majority of you. Tonight will be a clear breezy night but by mid June standards it is going to be chilly. By Sunday morning lows will be in the low to middle 50s in the warmest urban locations but many inland areas will be in the 40s.
Sunday is going to be a mostly sunny Father's Day. The upper trough will be sitting off the east coast and there could be a few clouds thrown back westward to the immediate coast of Southern and Southeastern New England including Long Island overnight into early Sunday morning but those clouds should pull out. Otherwise it will be mostly sunny everywhere else with nothing more than a few passing clouds. Highs Sunday will be in the low to middle 70s except for a few 60s well north and west of the coast.
We will have the cool air hold on through Sunday night before the upper trough offshore slowly begins to pull away to the east. Normally in case like this the warm up would be rather swift but weather systems are only moving very slowly these days and this upper trough is going to be taking its sweet time moving away.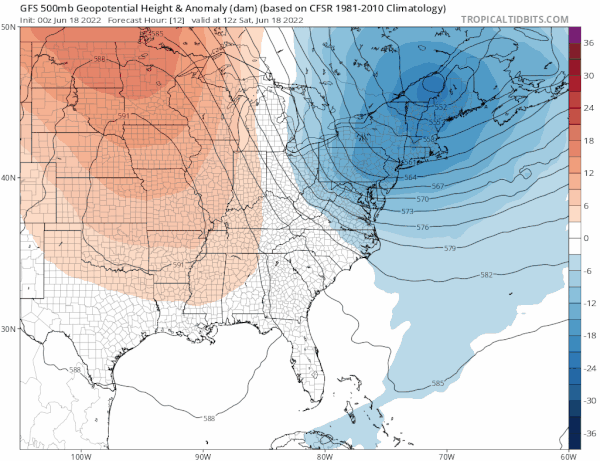 This should leave us dry and sunny for Monday with highs back in the upper 70s to lower 80s. The upper flow is going to still be from the north on Tuesday while a heat ridge builds to the west and south of us in the Ohio Valley south to the Gulf States. Like last week, that heat will stay to our west leaving us in a warm place of seasonal temperatures for Tuesday through Friday which means we will be back in the low to middle 80s by day. There will be chances for showers late Tuesday into early Wednesday as a disturbance drops southward out of Canada (like we saw last week) and we may see another cold front late in the week.
Other than those two systems we don't see anything major. The heat stays mostly to our west. Except for whatever thunderstorms we see, rain will be minimal. There are no tropical storms to worry about. Summer arrives officially Tuesday and we make the transition. Were it not for the cool air mass of this weekend, the season change would probably not be noticed. Enjoy your weekend.
Please note that with regards to any severe weather,  tropical storms, or hurricanes, should a storm be threatening, please consult your local National Weather Service office or your local government officials about what action you should be taking to protect life and property.