Excessive Rainfall Severe Weather Risk Wednesday Hot Steamy Thunderstorms
We are heading into steamy conditions and you are certainly getting a bit of hint of that today. The humidity has risen from yesterday making it hot and uncomfortable. We are now going to take it up a few more notches on Wednesday with temperatures reaching into the 90s and dew points in the 70s. This will put us a steam bath atmosphere. Throw in the remnants of Tropical Storm Barry and an upper trough swinging east from the Great Lakes and you have the recipe for severe weather late Wednesday and Wednesday night. The potential exists for some of these thunderstorms to produce heavy rain and flash flooding so the weather prediction center has much of our area in a marginal to slight risk for excessive rainfall.
The potential exists for several inches of rain in some heavier thunderstorms impacting the area. Given the slow moving nature of this weather system, it could make for some rough conditions late tomorrow into Wednesday night. The satellite picture from this afternoon shows the remnants of Barry as a large swirl of clouds and the upper trough to the northwest that is sweeping it eastward like a slow moving broom.
Meanwhile the latest satellite view shows skies still clear over us with clouds to the northeast and the moisture from Barry spreading clouds into the Central Appalachians. We have no weather issues to worry about through tonight other than the fact that tonight will be very warm and humid with most lows in the upper 60s and lower 70s. Radars are quiet this afternoon and we see no issues into Wednesday midday. Some pop up storms are showing up in the Western half of Pennsylvania southward but we don't think those make it here.
SATELLITE

REGIONAL RADAR

Wednesday will be steamy with highs into the 90s with high humidity. The GFS depiction of the radar shows thunderstorms moving through tomorrow evening and still lingering into Thursday morning. Other models take longer to bring thunderstorms here and hold them back until after dark Wednesday. My approach is all about the risk zones and we will let the radars tell us tomorrow what we wind up getting.
Thursday with lingering clouds and high humidity most highs will be in the 80s with some scattered afternoon thunderstorms. This all clears the coastline later Thursday setting us up for brutally hot and humid conditions beginning on Friday. Highs will be in the low to mid 90s and just the outside chance for a pop up downpour or thunderstorm.
Saturday sets up to be the hottest day of this stretch with highs reaching 95 to 100 in many locations along with the chance for a pop up thunderstorm. The humidity levels will be very high so heat indices will be in the 105-110 range. Sunday will be a shade less hot with highs in the 90s again but we should stay below the ranges of Saturday.
Saturday Heat Indices Forecast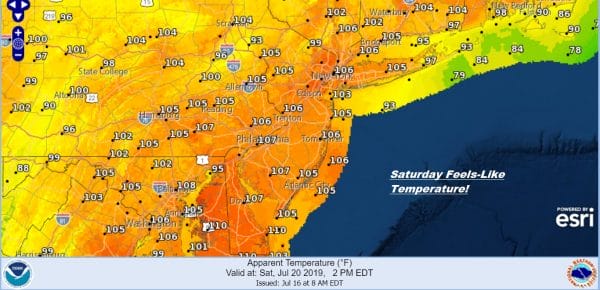 The break in this hot pattern will come on Monday when a cold front with some punch makes it to the coast Monday evening with some showers and thunderstorms. Highs Monday will be into the 90s but this should be the last day of the brutal heat and humidity as a high builds in for the middle of next week.
Assuming that this front gets through and keeps on moving and we think it should, it will make for much better weather for Tuesday through Thursday of next week. No doubt about it folks, this will be the hottest weather of the summer so far.
MANY THANKS TO

TROPICAL TIDBITS

FOR THE USE OF MAPS
Please note that with regards to any tropical storms or hurricanes, should a storm be threatening, please consult your local National Weather Service office or your local government officials about what action you should be taking to protect life and property.