Everyone Is Waiting For Widespread 70s Saturday Is The Day!
Everyone Is Waiting For Widespread 70s Saturday Is The Day!
No doubt the prolonged cold is taking its toll on everyone's psyche but everything remains on course for warm weather late this week. Saturday looks like the day where everyone participates but warmer temperatures will start to arrive over parts of the area on Thursday with more participation on Friday and almost everyone (baring the sea breeze at the coast) on Saturday.
Before we get to the end of the week we have some work today tonight as a weak weather system moves through with some rain and snow. This is going to be a light event and National Weather Service snow forecast maps for tonight for all areas have minimal amounts of under an inch and this is going to be mainly on colder surfaces if it happens. Certainly this is nothing to be concerned over and it will all be gone quickly in the morning.
NEW YORK CITY AND VICINITY SNOW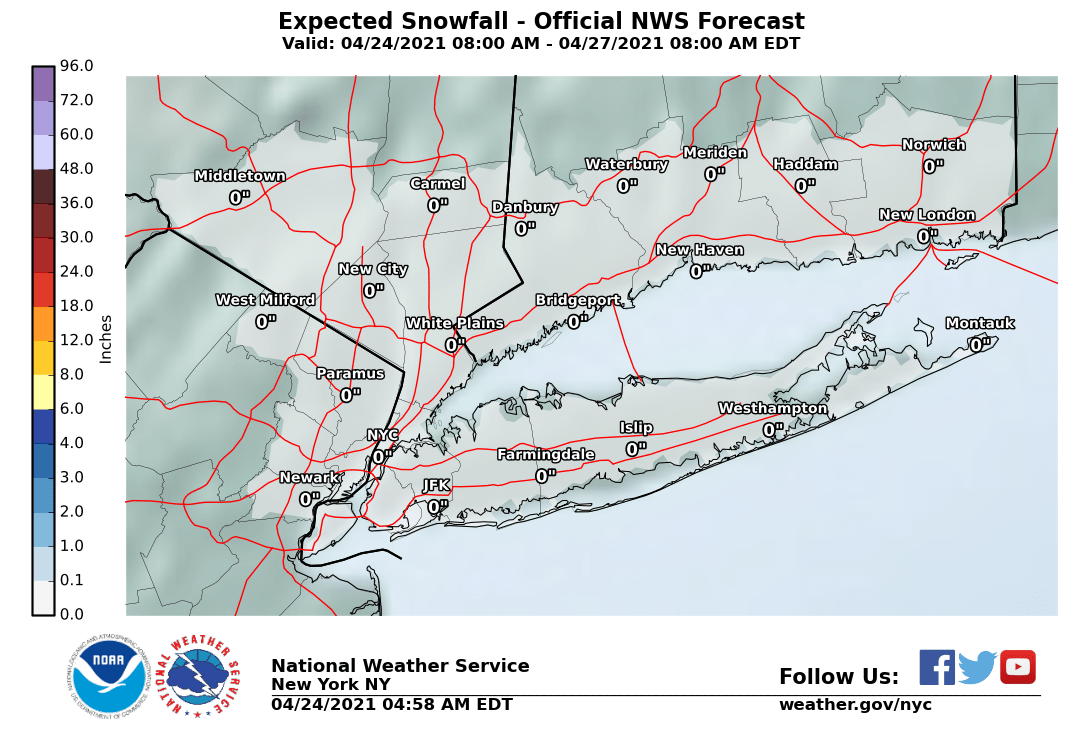 NEW JERSEY & PARTS OF NE PA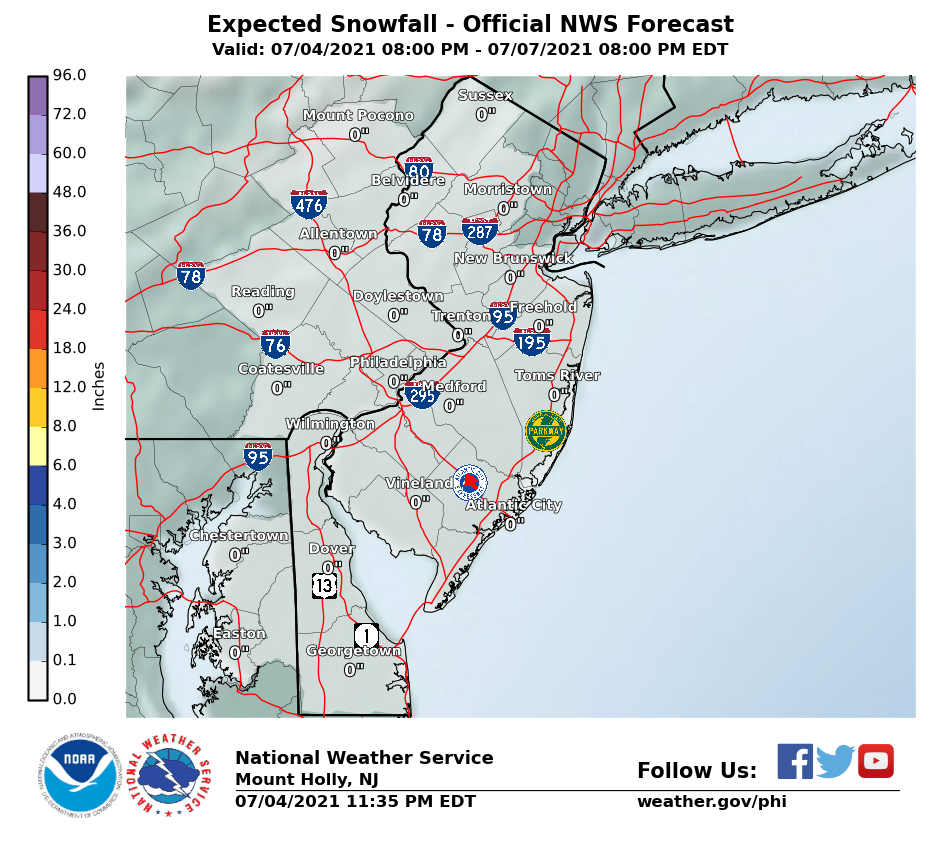 SOUTHERN AND SOUTHEAST NEW ENGLAND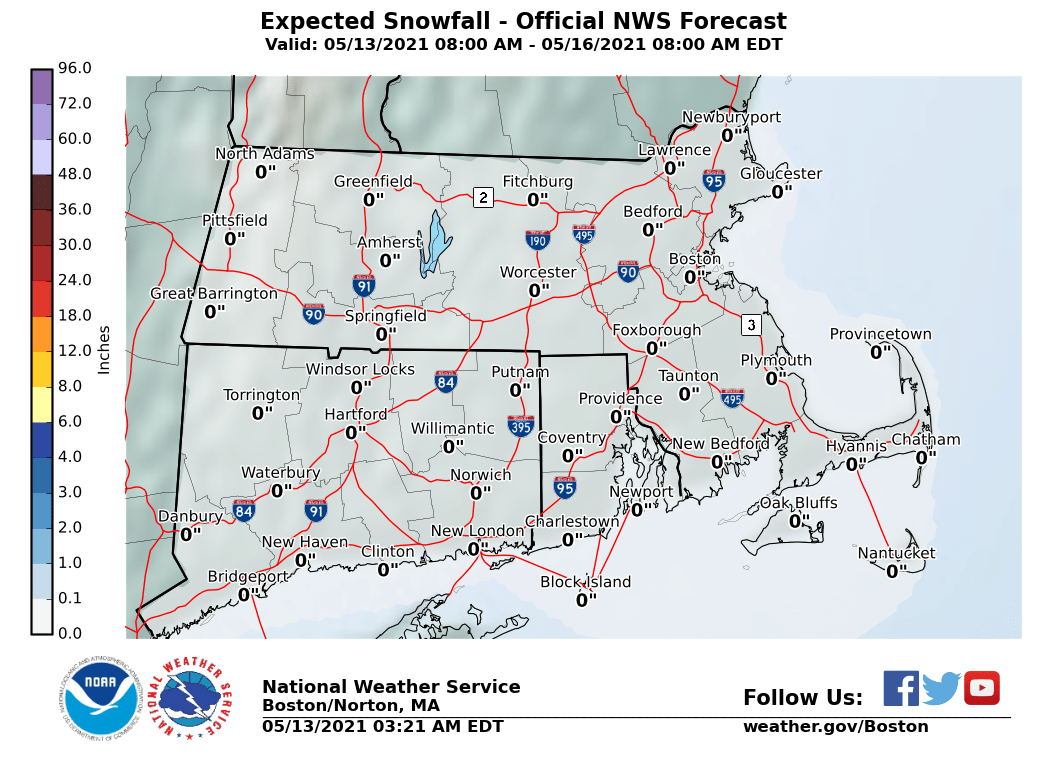 Clouds are increasing over the area as evidenced on the satellite view. In fact it has been overcast most of the afternoon across Southern Pennsylvania and Southern New Jersey.
US SATELLITE

On the regional radar we can see an area of precipitation moving across Pennsylvania. This will hold together into this evening and move over the forecast area overnight into Tuesday morning. Along the coast look for some light rain with perhaps some wet snow mixed in. Inland in Northern New Jersey, Eastern Pennsylvania, the Hudson Valley and Western Connecticut a little bit of snow seems likely.
REGIONAL RADAR

LOCAL RADAR NEW YORK CITY
LOCAL RADAR PHILADELPHIA

Once this moves out Tuesday morning the rest of the day we will see clouds and the occasional passing shower. Some sunshine returns on Wednesday. Tuesday's highs will be in the 40s thanks to the clouds. Wednesday we should be back into the 50s.
THURSDAY'S FORECAST HIGHS
The warmer temperatures begin to arrive Thursday as a weak system goes by to our north. Look for sun and clouds and a late day rain shower. Highs will reach the 60s inland and 50s along shore locations. Friday and Saturday look like the 2 nice spring warm days with some 70s on Friday and 70s for many areas on Saturday.
FRIDAY'S FORECAST HIGH TEMPERATURES
SATURDAY'S FORECAST HIGH TEMPERATURES
Sunday brings the next cold front and while it will be on the warm side ahead of that front, a wind off the ocean will keep coastal areas and Southern New England cooler and then we have showers that will be arriving during the course of the day.
GFS FORECAST 2PM SUNDAY APRIL 15, 2018
Enjoy these warm days because a blocky pattern returns during next week which will likely keep things cooler than average for most of next week and in the long range.

GET JOE A CIGAR IF YOU LIKE 
FiOS1 News Weather Forecast For Long Island
FiOS1 News Weather Forecast For New Jersey
FiOS1 News Weather Forecast For Hudson Valley
LATEST JOESTRADAMUS ON THE LONG RANGE