European Weather Model Bullish on Stormier Pattern
European Weather Model Bullish on Stormier Pattern
We continue to see models handling the weather for next week rather differently. All of this has to do with the fact that there are numerous waves of energy running around in the jet stream and each run reacts differently to each wave and how it changes. The European weather model however seems to have been the most consistent in how it is handling the changes across North America and continues to telegraph some sort of low development along the east coast for the middle of next week.
EUROPEAN WEATHER MODEL WEDNESDAY NOVEMBER 16TH
EUROPEAN WEATHER MODEL THURSDAY NOVEMBER 17TH
The end result is a broad upper air cutoff low along the Delaware coast by next Thursday with a surface low somewhere to the east northeast. Obviously there is no real cold air around so this would be a rain event if the phasing idea is correct. The Canadian weather model is similar to the European although it is a day faster while the GFS remains completely unphased and weak.
CANADIAN WEATHER MODEL WEDNESDAY NOVEMBER 16TH
GFS WEATHER MODEL WEDNESDAY NOVEMBER 16TH
The Canadian surface map is below. The European is not that different except that it is 24 hours later for Wednesday morning at 7am  instead of Tuesday night at 1am.
I don't want to completely discount the GFS idea of nothing happening since we are still in this drought pattern but the fact that the other 2 models have been more consistent is encouraging. Also the GFS off hour runs seem to go back to a more phased look and we might see that happen late this afternoon when that run comes out. At least this would be a nice soaking rain for the area if it happens. Also the European model is bullish longer term with a more active pattern.
We will of course have to see what happens with the first one before we worry about the second one. Still it is nice to see the models showing more activity now as we get deeper into November.
MANY THANKS TO TROPICAL TIDBITS FOR THE WONDERFUL USE OF THE MAPS
           SNOW REMOVAL COMPANIES FOR YOUR WINTER NEEDS
             LONG ISLAND                                ROCKLAND COUNTY                   Connecticut

WINTER 2016-2017 PART 1 OCEAN WATER TEMPERATURES
WINTER 2016-2017 PART 2 ARCTIC SEA ICE AND SIBERIAN SNOW COVER
FiOS1 News Weather Forecast For Long Island
FiOS1 News Weather Forecast For New Jersey
FiOS1 News Weather Forecast For Hudson Valley
NATIONAL WEATHER SERVICE SNOW FORECASTS
LATEST JOESTRADAMUS ON THE LONG RANGE
Weather App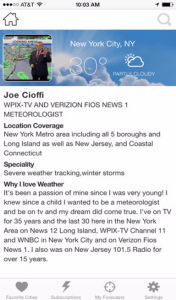 Don't be without Meteorologist Joe Cioffi's weather app. It is really a meteorologist app because you get my forecasts and my analysis and not some automated computer generated forecast based on the GFS model. This is why your app forecast changes every 6 hours. It is model driven with no human input at all. It gives you an icon, a temperature and no insight whatsoever.
It is a complete weather app to suit your forecast needs. All the weather information you need is right on your phone. Android or I-phone, use it to keep track of all the latest weather information and forecasts. This weather app is also free of advertising so you don't have to worry about security issues with your device. An accurate forecast and no worries that your device is being compromised.
Use it in conjunction with my website and my facebook and twitter and you have complete weather coverage of all the latest weather and the long range outlook. The website has been redone and upgraded. Its easy to use and everything is archived so you can see how well Joe does or doesn't do when it comes to forecasts and outlooks.
Just click on the google play button or the apple store button on the sidebar for my app which is on My Weather Concierge. Download the app for free. Subscribe to my forecasts on an ad free environment for just 99 cents a month.
Get my forecasts in the palm of your hand for less than the cost of a cup of Joe!