Snowfall Forecast
Okay folks this is my long island snowfall forecast map based on my views of the overnight model runs. There was a shift northward in the northern fringe of the snow and the northern area of 6 inches plus on the European. The fact that most of the models are pretty close now with how this plays out inspires a little more confidence at this point which in weather is never an easy thing to feel.
                                                                                                                                                             Snowfall Forecast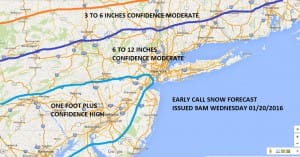 I think it will be cold enough for all snow except for a brief period of mixing over the twin forks Saturday afternoon and along the immediate New Jersey Shore. However elsewhere it should be cold enough to keep it all snow with temperatures mostly in the 20s. The heaviest snow would be Saturday afternoon and Saturday night.
With regards to the weather for the rest of today we will see clouds rolling in with temperatures in the 30s. Then tonight as colder air starts to slowly return look for some breaks of clearing with lows in the 20s. During Thursday and Friday we will gradually be turning colder with sunshine on Thursday with highs in the lower 30s. Sunshine Friday will give way to arriving clouds ahead of the weekend storm. Highs Friday will just be in the 20s.
Radar right now is pretty quiet. Any snow showers to the west will probably fall apart long before they would get here. The radar should remain clear until Friday when snow beings to move into the Middle Atlantic States. Snow should begin late Friday night in South Jersey and Southeast Pennsylvania  and around daybreak on Saturday in New York City and should be done by daybreak on Sunday based on the latest model runs. For the latest National Weather Service Snow Forecasts click on the link below.
COASTAL FLOODING
COASTAL FLOODING WILL BE A BIG ISSUE FOR LONG ISLAND AND NEW JERSEY. SEE MY LATEST POST ON COASTAL FLOODING ISSUES.
>EUROPEAN SNOWFALL FORECAST
Today's model run shows pretty much the same idea and it has upticked amounts around New York City and Long Island. Notice the sharp cut off north of route 84.
 NEW VIDEO ANALYSIS OF OVERNIGHT EUROPEAN
Long Island Snowfall Forecast
 NEW VIDEO ANALYSIS OF OVERNIGHT GFS
LATEST GFS DISCUSSION REGARDING MAJOR STORM THREAT
NATIONAL WEATHER SERVICE SNOW FORECASTS
LATEST JOESTRADAMUS ON THE LONG RANGE
Weather App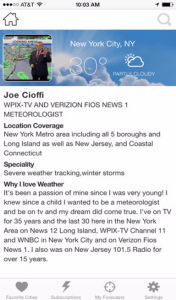 Winter is here! Don't be without Meteorologist Joe Cioffi's weather app. It is a complete weather app to suit your forecast needs. All the weather information you need is right on your phone. Android or I-phone, use it to keep track of all the latest weather information and forecasts. This weather app is also free of advertising so you don't have to worry about security issues with your device. An accurate forecast and no worries that your device is being compromised.
Use it in conjunction with my website and my facebook and twitterand you have complete weather coverage of all the latest weather and the long range outlook. The website has been redone and upgraded. Its easy to use and everything is archived so you can see how well Joe does or doesn't do when it comes to forecasts and outlooks.
Just click on the google play button or the apple store button on the sidebar for my app which is onMy Weather Concierge. Download the app for free. Subscribe to my forecasts on an ad free environment for just 99 cents a month.
Get my forecasts in the palm of your hand for less than the cost of a cup of Joe!