European Model Paints Stormy Scenario With Major Storm
European Model Paints Stormy Scenario With Major Storm
As we draw closer to Sunday's event there is still some confusion among models in terms of the structure of this storm and how it is all going to evolve. To add more confusion to the mix and Air Force Plane is enroute to investigate low pressure developing in the Northwest Caribbean which has shown an increase in organization today. In spite of all this the European model remains steadfast it its view of Sunday and Sunday night's major storm forecast to develop off the Southeast coast of the US and then head straight northward just inland of the coast into upstate NY as a major storm.
EUROPEAN MODEL SUNDAY MORNING 8AM
The low tracks from southeast of Charleston South Carolina at 8am to near or just west of Cape May New Jersey by Sunday evening 8pm. From there it runs northward to just east of Lake Ontario near my favorite fishing spot Pulaski NY.
The European refuses to let go of the very strong upper air structure of this system where the upper trough lifts completely up and around forcing the surface storm to intensify rapidly.
EUROPEAN MODEL UPPER AIR JET STREAM SATURDAY THROUGH MONDAY
CLICK TO ANIMATE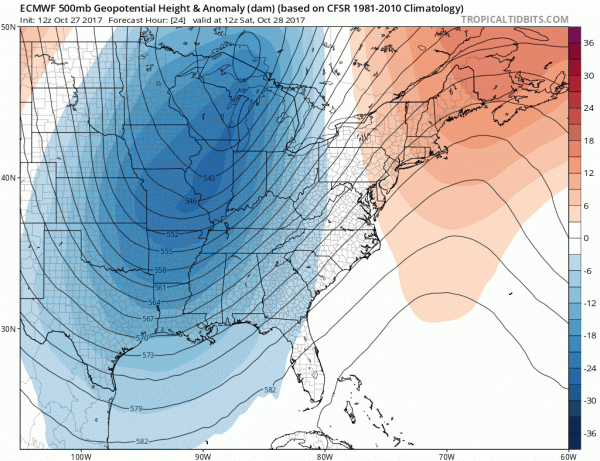 Given the persistence of the model and the solid dynamics we are going to experience rather rocky conditions in most of the area. Most of it will be manageable however there will be some areas that will get hit harder than others. Along and east of the storm track and given the rapid movement of the surface low, winds will be stronger east of the low center track on Sunday. By Sunday evening southerly winds will increase to 20 to 30 knots with higher gusts. West of the low track rain will be the bigger issue with 2 to 3 inch rainfalls likely though the speed of movement will keep rain amounts from getting overly excessive.
The above maps shows forecast wind gusts on the European for Monday morning 5am Eastern Time. Special thanks to WEATHER.US for use of the maps
Once the low tracks to our north into upstate NY winds will shift to the west and northwest and we will see strong winds later Sunday night into Monday afternoon on the order of 20 to 35 knots with gusts of 50 kts or higher along coastal areas.
MANY THANKS TO TROPICAL TIDBITS FOR THE WONDERFUL USE OF THE MAPS
GET JOE A CIGAR IF YOU LIKE!
FiOS1 News Weather Forecast For Long Island
FiOS1 News Weather Forecast For New Jersey
FiOS1 News Weather Forecast For Hudson Valley
NATIONAL WEATHER SERVICE SNOW FORECASTS
LATEST JOESTRADAMUS ON THE LONG RANGE
Weather App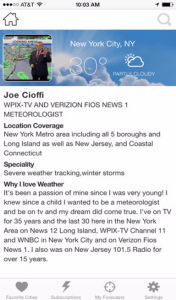 Don't be without Meteorologist Joe Cioffi's weather app. It is really a meteorologist app because you get my forecasts and my analysis and not some automated computer generated forecast based on the GFS model. This is why your app forecast changes every 6 hours. It is model driven with no human input at all. It gives you an icon, a temperature and no insight whatsoever.
It is a complete weather app to suit your forecast needs. All the weather information you need is right on your phone. Android or I-phone, use it to keep track of all the latest weather information and forecasts. This weather app is also free of advertising so you don't have to worry about security issues with your device. An accurate forecast and no worries that your device is being compromised.
Use it in conjunction with my website and my facebook and twitter and you have complete weather coverage of all the latest weather and the long range outlook. The website has been redone and upgraded. Its easy to use and everything is archived so you can see how well Joe does or doesn't do when it comes to forecasts and outlooks.
Just click on the google play button or the apple store button on the sidebar for my app which is on My Weather Concierge. Download the app for free. Subscribe to my forecasts on an ad free environment for just 99 cents a month.
Get my forecasts in the palm of your hand for less than the cost of a cup of Joe!