European Model Brings Snow North
Tonight's European model brings snow north with the axis of heavy snow touching New York City. It also shifted the northern fringe of accumulating snow a little further north on this run. Actually when you look at the European surface and upper air, the surface lows match pretty well with the GFS and the Canadian. They are not that far apart. The difference is how the model has the upper feature oriented when it is at the coast.
The differences in the two are subtle. They really aren't that far apart. The GFS has the upper low tucked in a little further northwest than the European which probably accounts for the GFS having the heavy snow axis further north. But the surface lows are in about the same spots. This is going to make the forecast especially difficult because there will be a wall of literally miles where you will go from flurries to a few inches to many inches. The European tonight says that line between few and many gets close to New York City.
EUROPEAN MODEL BRINGS SNOW NORTH

                                                                 European Model Brings Snow North Closeup View

The European model generates almost 1 inch of liquid preciptiation across Long Island, New York City and points southward with half an inch up to just north and west of route 84 in New York. It also brings half an inch of liquid across coastal Connecticut. This is more robust than the day run. Should this be all snow it certainly translates to a 6 to 10 inch snowfall across much of Southern Connecticut, Long Island, New York City and Northern New Jersey south of route 80 with lesser amounts as you start going north and west.
My takeaway from all this is that the models are now very close and now it becomes a matter of fine tuning everything over the next few days. Later this morning I will put out a first call map. I would like to see one more run to just to get a feel for whether the trend continues. Certainly the model has left the door open and there is still time for more adjustments in either direction to occur.
NEW VIDEO ANALYSIS OF OVERNIGHT EUROPEAN
NEW VIDEO ANALYSIS OF OVERNIGHT GFS
LATEST GFS DISCUSSION REGARDING MAJOR STORM THREAT
NATIONAL WEATHER SERVICE SNOW FORECASTS
LATEST JOESTRADAMUS ON THE LONG RANGE
Weather App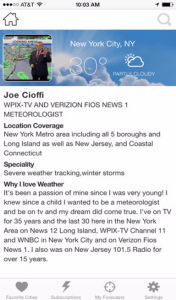 Winter is here! Don't be without Meteorologist Joe Cioffi's weather app. It is a complete weather app to suit your forecast needs. All the weather information you need is right on your phone. Android or I-phone, use it to keep track of all the latest weather information and forecasts. This weather app is also free of advertising so you don't have to worry about security issues with your device. An accurate forecast and no worries that your device is being compromised.
Use it in conjunction with my website and my facebook and twitterand you have complete weather coverage of all the latest weather and the long range outlook. The website has been redone and upgraded. Its easy to use and everything is archived so you can see how well Joe does or doesn't do when it comes to forecasts and outlooks.
Just click on the google play button or the apple store button on the sidebar for my app which is onMy Weather Concierge. Download the app for free. Subscribe to my forecasts on an ad free environment for just 99 cents a month.
Get my forecasts in the palm of your hand for less than the cost of a cup of Joe!