Another model another solution! This time the European which basically looks like a compromise between the GFS and the Canadian through 120 hours. You can read my Joestradamus post from earlier today on this.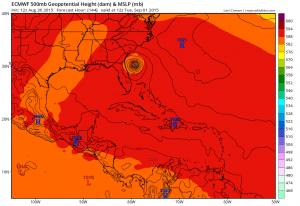 If you wish to see where it goes beyond 144 hours click on the link and you can loop it out to day 10. I just want to deal with the shorter range here. The European rebuilds the upper high west northwestward into the southeast. Erika responds to this by riding the southern edge. Through 96 hours the ridge is strong. However the model then splits the ridge like the Canadian and creates a weakness where Erika can pass into.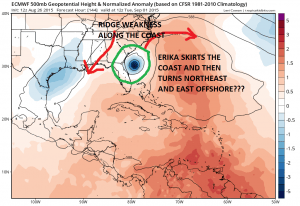 And what about the Northeast? Well think back to my prior Joestradamus post regarding direct hits to the northeast and what you need to see. Here is the upper air forecast by the European a week from today.
With the upper high forecast to build like this the storm has one of 2 choices. It can either meander around in that spot for days or drift in any direction but most likely would be an eastward drift. When you look at past storms that have moved up the east coast and provided direct hits they all came with deep troughs along and just west of the coast. No trough here. Not even close. The European does deepen this storm to a major hurricane when it is half way between the Carolinas and Bermuda.
Conclusions: It appears the Euro is in line with the idea that the other models are that Florida and the Southeast US coast will be a threat assuming Erika holds together. All models do hold somethiing together with variations between the GFS being weakest and Euro in the end being strongest. At this time tomorrow we should have a better idea of what we are going to be dealing with over the weekend. But for the Northeast and Mid Atlantic States there are no weather issues to speak of at least through Sunday.