Europe Freezes While Noreaster Possibility Appears Late Next Week
Europe Freezes While Noreaster Possibility Appears
Late Next Week
Wednesday's incredible run of record high temperatures and all time high temperatures reflected an upper air weather pattern that was absolutely stretched to an extreme. Now the rubber band is about to snap and lash back in the opposite direction. The super powerful ridge along the East Coast (labeled one for the ages by some) is about to break down. At the same time a huge high is going to develop in the Northeast Atlantic between Greenland and Scandinavia. This is going to change the profile of weather across North America and Western Europe in a big way. Europe will be going into a deep freeze as cold air from Siberia will be moving westward and covering virtually the entire continent early next week.
This week of cold air will create temperature anomalies of 20 degrees F below average for at least several days beginning early next week in Europe. Back home meanwhile we will spend next week quietly into Thursday with reasonably mild weather until the block moves westward which all models show happening later next week.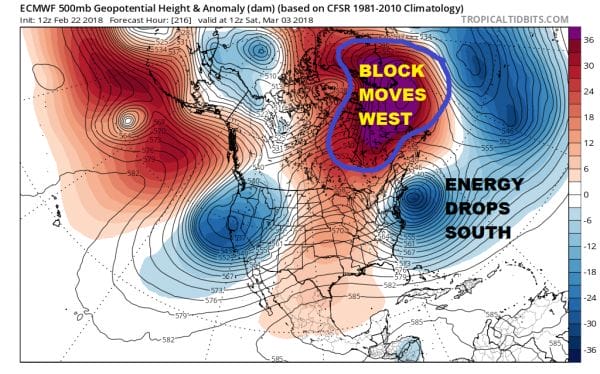 Late next week energy and low pressure will be moving east across the US and weather models are all pointing to a storm developing along the East Coast. All the models show this in some form but this looks to be a rather bizarre scenario here where the block is so strong, it traps an intensifying low along the East Coast. This if it happens will come with a full moon so there will be some tidal issues . The amount of cold air will be another question in play where and that will depend on how much cold air can drain southward from Eastern Canada. The block could be so strong that it squashes any ocean storm well to the south. This is another possibility. Puzzle pieces are out there but how they come together remain to be seen. Interesting times ahead.
SHOP THE JOESTRADAMUS STORE
MANY THANKS TO TROPICAL TIDBITS FOR THE WONDERFUL USE OF THE MAPS
GET JOE A CIGAR IF YOU LIKE!
FiOS1 News Weather Forecast For Long Island
FiOS1 News Weather Forecast For New Jersey
FiOS1 News Weather Forecast For Hudson Valley
NATIONAL WEATHER SERVICE SNOW FORECASTS
LATEST JOESTRADAMUS ON THE LONG RANGE