Europe Britain Snow Cold Noreaster East Coast Late Week
Europe Britain Snow Cold Noreaster East Coast Late Week
With an unusually strong blocking pattern setting up across the North Atlantic, we are going to see impact on both sides of the globe later next week. Siberian cold is spreading across Europe now and will cover all of Europe all this week. An Atlantic Ocean storm will move northward along the coasts of Spain & France and head for the English Channel late this week. This is going to produce snow over a large area in Western Europe including the British Isles.
Weather models all are in general agreement on this idea of an Early March storm for Western Europe & the British Isles. Models are producing rather impressive snow amounts in some areas. What will make this a bit unusual is that England will see snow from their version of lake effect snow with cold winds coming off the North Sea. Then this storm may wind up bringing snow to the entire British Isles later Thursday into Friday. That doesn't happen too often.
GFS SNOW FORECAST EUROPE INTO SATURDAY MARCH 3, 2018
Models are forecasting a large area of 10 to 20 centimeters which is basically a 4 to 8 inch snowfall for a large geographic area from Northern Spain to Scotland and Ireland. Meanwhile here on our side of the world we have a noreaster looming larger with every model run. However cold air is lacking here so this is going to be primarily a rain wind coastal flooding event for the coastal areas of Northern Middle Atlantic & the Northeast. There will be some cold air caused by dynamic cooling of the atmosphere thanks to the very powerful dynamics aloft. This will probably bring snow to areas well north and west of the coast.
GFS FORECAST FRIDAY 7PM MARCH 2, 2018
Models bring a primary low into Northern Ohio. Blocking to the north forces a secondary to develop and take over quickly. While the low initially develops near the New Jersey coast, the strong block forces the low to drop southward or south southeastward offshore. As this process happens colder air drains down from Eastern Canada and gets pulled into the circulation. This will probably create an opportunity for rain to change over to wet snow as the precipitation winds down Friday night into Saturday. Even if this happens I don't think it will have much impact to coastal areas though inland there could be a bit of cheap thrill.
GFS SNOW FORECAST THROUGH SATURDAY MORNING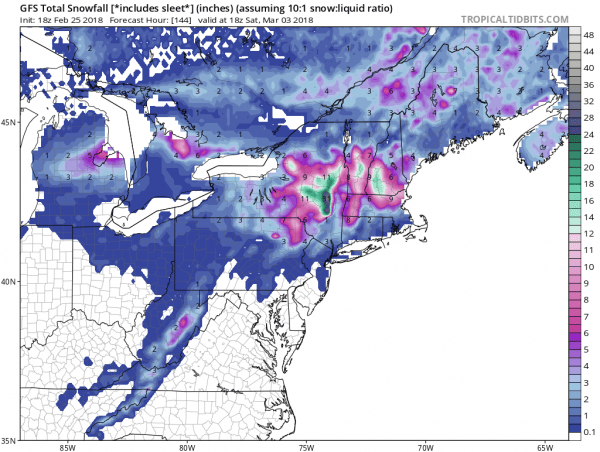 The European & GFS model would argue for a heavy wet snow storm for the middle & upper Hudson Valley Northward along with elevated areas from Northeast Pennsylvania through the Catskills. Heavy snow is also possible from Western Massachusetts northeast into interior Northern New England. I think for the coast the main issues will be rains on the order of a few inches possible. More importantly is that this storm comes with a full moon and high spring times so coastal flooding could become a big issue. Weather conditions will be fine into early Thursday before deteriorating later Thursday. Rains arrive Thursday evening and it will be a long duration event as this will not taper off until early Saturday morning. The one possibility we want to keep a bit of an eye on is if cold air were to become more important Friday night into Saturday though we rate this a bit of a long shot. All the arctic cold is Europe. We will have to manage with whatever cold air we have in Eastern Canada which is cold but necessarily cold enough.
SHOP THE JOESTRADAMUS STORE
MANY THANKS TO TROPICAL TIDBITS FOR THE WONDERFUL USE OF THE MAPS
GET JOE A CIGAR IF YOU LIKE!
FiOS1 News Weather Forecast For Long Island
FiOS1 News Weather Forecast For New Jersey
FiOS1 News Weather Forecast For Hudson Valley
NATIONAL WEATHER SERVICE SNOW FORECASTS
LATEST JOESTRADAMUS ON THE LONG RANGE