Euro Weather Model Bullish On More Active Pattern
Euro Weather Model Bullish On More Active Pattern
We continue to watch to see how the weather pattern across the United States is changing. The problem is not really knowing what it is changing into. I have said many times that the pattern change you want and the pattern change you get are 2 different things. The European model runs of the last several days offer a rather bullish and stormy scenario for next week and has been doing this for the last several model runs. However I would caution that it stands alone at the moment and there are way to many variable here at play so far ahead of the game. That said we should point out that in any event, there is no real cold air yet in play so that part of the equation is pretty clear.
Euro Weather Model vs GFS Weather Model
Essentially the models are divided on whether all this energy that will be running around winds up phasing or not. The Gfs and Canadian models have unphased weak looks to them though you can see on the GFS that is it is not that far from the Euro weather models idea.
We of course have a lot of time to watch this going forward. In the meantime we wait for the next 2 quick shots of colder air. One comes Wednesday with some showers ahead of it Wednesday morning. The next and stronger one comes Friday with very little weather but it will bring in the coldest weather of the fall season this weekend, though again it is a quick shot.
MANY THANKS TO TROPICAL TIDBITS FOR THE WONDERFUL USE OF THE MAPS
           SNOW REMOVAL COMPANIES FOR YOUR WINTER NEEDS
             LONG ISLAND                                ROCKLAND COUNTY                   Connecticut

WINTER 2016-2017 PART 1 OCEAN WATER TEMPERATURES
WINTER 2016-2017 PART 2 ARCTIC SEA ICE AND SIBERIAN SNOW COVER
FiOS1 News Weather Forecast For Long Island
FiOS1 News Weather Forecast For New Jersey
FiOS1 News Weather Forecast For Hudson Valley
NATIONAL WEATHER SERVICE SNOW FORECASTS
LATEST JOESTRADAMUS ON THE LONG RANGE
Weather App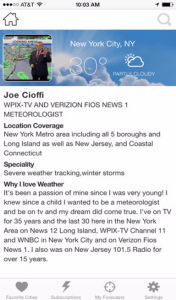 Don't be without Meteorologist Joe Cioffi's weather app. It is really a meteorologist app because you get my forecasts and my analysis and not some automated computer generated forecast based on the GFS model. This is why your app forecast changes every 6 hours. It is model driven with no human input at all. It gives you an icon, a temperature and no insight whatsoever.
It is a complete weather app to suit your forecast needs. All the weather information you need is right on your phone. Android or I-phone, use it to keep track of all the latest weather information and forecasts. This weather app is also free of advertising so you don't have to worry about security issues with your device. An accurate forecast and no worries that your device is being compromised.
Use it in conjunction with my website and my facebook and twitter and you have complete weather coverage of all the latest weather and the long range outlook. The website has been redone and upgraded. Its easy to use and everything is archived so you can see how well Joe does or doesn't do when it comes to forecasts and outlooks.
Just click on the google play button or the apple store button on the sidebar for my app which is on My Weather Concierge. Download the app for free. Subscribe to my forecasts on an ad free environment for just 99 cents a month.
Get my forecasts in the palm of your hand for less than the cost of a cup of Joe!