Euro Model Warm Bias Long Range
Clearly we continue with a warmer than normal pattern. Nothing in the long range outlook on either the Euro Model or GFS model suggests otherwise. The upper air pattern features a mean ridge in the east and a mean trough in the west and that pretty much sums things up over the next 10 days or longer. This doesn't mean not stop warmth and nice weather. Granted there will be some stretches like the one this week that began today and carries us through Thursday. There will be minor interruptions with back door cold fronts and occasional systems coming in from the west with showers. For the most part it is a March springtime pattern and no cold air to speak of anytime soon.
Euro Model Warm Bias Long Range UPPER AIR WEDNESDAY & SATURDAY
The Euro model upper air for Thursday and for Saturday of this week. The Thursday jet stream view has the ridge in the east and very strong. There is a system in the northern stream moving along that pushes a front through here early on Friday. Much of the energy with that goes to our north. It doesn't appear to me at this point that the front will produce anything more than a shower as low pressure sets up to the northeast and the high winds up building southward over time.
Euro Model Warm Bias Long Range SURFACE MAPS FRIDAY AND SATURDAY
With the high going to off the New Jersey coast I would expect improving weather conditions on Friday from the standpoint of clouds and early showers. Saturday looks like a half way decent day with sunshine and temperatures milder than normal but probably holding in the 50s. The next weather system that approaches goes from Texas to the Great Lakes. I think showers will probably hold off until late Sunday or Sunday night and continuing into Monday.
Euro Model Warm Bias Long Range UPPER AIR AND SURFACE MONDAY MARCH 14th
When you look at the upper air map on the Euro model for next Monday you can see where the trough and ridges are reloading. They are pretty much in the same spots. The trough in the west is about to fire off another system inland while the ridge in the east is getting ready to build yet again.
Euro Model Warm Bias Long Range European Day 10 UPPER AIR
Beyond the 10 day period there are a few things happening that might move a few things around for the last week or so of the month of March. However there really is nothing that I can point to that at this point suggests anything specific. Canada still appears to be cut off from any cold flow in the longer term. There are rising pressures in the Atlantic Ocean up to Greenland. However there is no sign of any flow from the north developing from Canada into the United States. For now all we can say is that spring has arrived early. No major storms are on the horizon.
FiOS1 News Weather Forecast For Long Island
FiOS1 News Weather Forecast For New Jersey
FiOS1 News Weather Forecast For Hudson Valley
NATIONAL WEATHER SERVICE SNOW FORECASTS
LATEST JOESTRADAMUS ON THE LONG RANGE
Weather App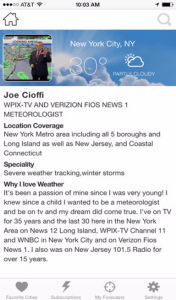 Don't be without Meteorologist Joe Cioffi's weather app. It is really a meteorologist app because you get my forecasts and my analysis and not some automated computer generated forecast based on the GFS model. This is why your app forecast changes every 6 hours. It is model driven with no human input at all. It gives you an icon, a temperature and no insight whatsoever.
It is a complete weather app to suit your forecast needs. All the weather information you need is right on your phone. Android or I-phone, use it to keep track of all the latest weather information and forecasts. This weather app is also free of advertising so you don't have to worry about security issues with your device. An accurate forecast and no worries that your device is being compromised.
Use it in conjunction with my website and my facebook and twitter and you have complete weather coverage of all the latest weather and the long range outlook. The website has been redone and upgraded. Its easy to use and everything is archived so you can see how well Joe does or doesn't do when it comes to forecasts and outlooks.
Just click on the google play button or the apple store button on the sidebar for my app which is on My Weather Concierge. Download the app for free. Subscribe to my forecasts on an ad free environment for just 99 cents a month.
Get my forecasts in the palm of your hand for less than the cost of a cup of Joe!