Euro Model South Canadian Model North
At this point in the afternoon, social media boards are lighting up because the Canadian Weather model went nuts with the weather system for the end of the week. Since everyone is going to see it anyway let's take a look at what exactly it is doing.
Euro Model South Canadian Model North Canadian Weather Model Friday 03/04/2016
This is a major winter storm being depicted on the Canadian weather model. It takes the low as it moves across the Ohio Valley, redevelops it off the Middle Atlantic Coast and then intensifies it into a major storm. What it shows aloft is that there is a strong southern stream feature that gets energized buy a system in the northern stream leading to a deep coastal low. The two systems phase on this model.
Euro Model South Canadian Model North Canadian Weather Model Upper Air
This is all fine and dandy except that the issue all winter long as been trying to come to terms with multiple weather systems that phase or don't phase as timing changes with every run. The Euro model today has a different look. It has a faster and less deep southern feature that times out much differently then the Canadian weather model. It keeps the two streams separate. The result is that the storm that redevelops along the coast tracks east north east and out to sea. The result would be some snow for the Southern areas of the Middle Atlantic States but the northern fringe of the snow shield stays well offshore.
Euro Model South Canadian Model North Euro Model Upper Air
The Euro model up through Saturday night was going with the more phased look before it backed away from that yesterday. While the snow shield is a shade further north on today's run, it is a small shift and nothing here suggests that the Euro model is about to make a radical shift northward. Again this all has to do with the timing of shortwave energy in the jet stream. Unless the streams time out exactly, it is hard at this point to argue against the European's solution. The GFS weather model has trended north on the last couple of runs and has a little snow in here for Friday. However it does not have the depth that the Canadian weather model is showing. The NAM model only goes out through Thursday evening at this point so it is not inside the time range for us to gather a clue from this. Another argument against this is that the Ensembles of the Canadian and the GFS are all pretty much south and east of the operational runs. Many runs to go but for now I would still think this is a bet against.
FiOS1 News Weather Forecast For Long Island
FiOS1 News Weather Forecast For New Jersey
FiOS1 News Weather Forecast For Hudson Valley
NATIONAL WEATHER SERVICE SNOW FORECASTS
LATEST JOESTRADAMUS ON THE LONG RANGE
Weather App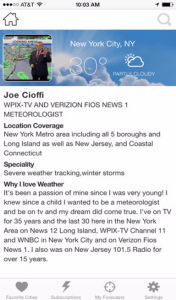 Don't be without Meteorologist Joe Cioffi's weather app. It is really a meteorologist app because you get my forecasts and my analysis and not some automated computer generated forecast based on the GFS model. This is why your app forecast changes every 6 hours. It is model driven with no human input at all. It gives you an icon, a temperature and no insight whatsoever.
It is a complete weather app to suit your forecast needs. All the weather information you need is right on your phone. Android or I-phone, use it to keep track of all the latest weather information and forecasts. This weather app is also free of advertising so you don't have to worry about security issues with your device. An accurate forecast and no worries that your device is being compromised.
Use it in conjunction with my website and my facebook and twitter and you have complete weather coverage of all the latest weather and the long range outlook. The website has been redone and upgraded. Its easy to use and everything is archived so you can see how well Joe does or doesn't do when it comes to forecasts and outlooks.
Just click on the google play button or the apple store button on the sidebar for my app which is on My Weather Concierge. Download the app for free. Subscribe to my forecasts on an ad free environment for just 99 cents a month.
Get my forecasts in the palm of your hand for less than the cost of a cup of Joe!