Euro Model Goes Right & Left
SATURDAY AFTERNOON GFS & NAM MODEL ANALYSIS ON HERMINE
Euro Model Goes Right & Left
Hermine is now a well defined post tropical cyclone. In other words, it looks and behaves like a noreaster. The futility in dealing with models that keep offeriing wide ranging solutions continues and frankly even using them at this point seems almost a waste of time. Most tracks center now on an offshore track with a hook back to the north and northwest over the next few days. Some models hook it back to the Delaware Coast. The Canadian is the champion of this idea. The European takes the storm further out to the northeast before hooking it back westward. It would spare New Jersey any major tidal flooding and shift it to Long Island. On the other hand now that the storm is post tropical, the National Hurricane Center points out the surge forecast is based a storm that has a tropical structure. This is going to alter the surge forecast considerably now that the strongest winds are well north of the center. We will share the new surge forecast from the National Hurricane Center when they issue it this evening. My feeling is that it may decrease the surge for New Jersey but it could increase it for Long Island.
The European takes Hermine out to the east northeast almost to 70 West now before hooking it back somewhat. It sweeps wind and rain into Long Island Sunday night into Monday but it gives little or nothing for New Jersey.
Euro Model Goes Right & Left Euro Sunday Morning 8am
Euro Model Goes Right & Left Monday Morning 8am
After this it lingers it nearby for another day or so before moving it away to the northeast.
Frankly I think the National Hurricane Centers track forecast is as good as any and they strengthen Hermine to a post tropical hurricane later tonight and keeps it at hurricane strength through Monday. The best approach from a forecast standpoint is that parts of the coastal areas from New Jersey to Southern New England will experience tropical storm conditions beginning late Sunday and lasting through late Monday or even early Tuesday. Some areas may see very little. Areas west and north of the Garden State Parkway in New Jersey and north and west of 287 in Westchester, and north and west of I-95 in Connecticut will see very little that will get in your way. The next model cycle begins in an hour and I'm sure they will offer a new adventure. The NAM GFS model forecast from this afternoon is in the video above
FiOS1 News Weather Forecast For Long Island
FiOS1 News Weather Forecast For New Jersey
FiOS1 News Weather Forecast For Hudson Valley
LATEST JOESTRADAMUS ON THE LONG RANGE
Weather App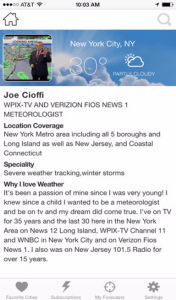 Don't be without Meteorologist Joe Cioffi's weather app. It is really a meteorologist app because you get my forecasts and my analysis and not some automated computer generated forecast based on the GFS model. This is why your app forecast changes every 6 hours. It is model driven with no human input at all. It gives you an icon, a temperature and no insight whatsoever.
It is a complete weather app to suit your forecast needs. All the weather information you need is right on your phone. Android or I-phone, use it to keep track of all the latest weather information and forecasts. This weather app is also free of advertising so you don't have to worry about security issues with your device. An accurate forecast and no worries that your device is being compromised.
Use it in conjunction with my website and my facebook and twitter and you have complete weather coverage of all the latest weather and the long range outlook. The website has been redone and upgraded. Its easy to use and everything is archived so you can see how well Joe does or doesn't do when it comes to forecasts and outlooks.
Just click on the google play button or the apple store button on the sidebar for my app which is on My Weather Concierge. Download the app for free. Subscribe to my forecasts on an ad free environment for just 99 cents a month.
Get my forecasts in the palm of your hand for less than the cost of a cup of Joe!