MENTION JOE CIOFFI AND GET A 5% DISCOUNT
Euro Model Gfs Model Battle
As we get closer to the weekend and the possibility of 2 coastal lows, a few things are becoming clear. One is that things are clearly unclear. The other is that the second coastal low that models were showing early next is shown to be a non factor. What is a forecaster to do?
Euro Model Gfs Model Battle
Saturday Night Into Sunday Morning
This afternoon's weather model runs go in opposite directions. The GFS model was deeper and further north bringing with it a round of wind and rain Saturday into Saturday night. The Euro model run was much further southeast and rain never makes it further north then Central New Jersey and barely touches the south shore of Long Island! This has to do with how the models handle the upper air feature as it heads to the east coast.
Euro Model Gfs Model Battle
Upper Air Sunday Morning
The more definable northern stream on the GFS model pulls the first surface low further north and makes it a little deeper than the European which slides it out to the northeast. The other big change is for Tuesday.  Both models show a rather deep upper air feature "cutting off" however the GFS drops it well south and east while the Euro keeps it along the coast. These model runs are well to the right of earlier runs of the last several days.
Euro Model Gfs Model Battle
 Upper Air Tuesday
In either case, models have backed way off developing the second surface low for Tuesday and keep it well offshore. The Euro suggests some rain could come back westward. The GFS would back rain in from the east Tuesday night into Wednesday as the surface low moves north. But that low is well east of prior runs.
Euro Model Gfs Model Battle
GFS Model Tuesday Night
The Euro model has at least taken the wrapped up gale center of yesterday off the table for the time being. Both models would suggest these are minor nuisances. Either way once this exits the area after the middle of next week, the weather pattern shifts somewhat to one where everything moves along and no onshore flow. This would be relatively good news as we approach the Memorial Day holiday weekend.
FiOS1 News Weather Forecast For Long Island
FiOS1 News Weather Forecast For New Jersey
FiOS1 News Weather Forecast For Hudson Valley
NATIONAL WEATHER SERVICE SNOW FORECASTS
LATEST JOESTRADAMUS ON THE LONG RANGE

NOMINATED FOR AN APPY AWARD FOR BEST WEATHER APP!!
Weather App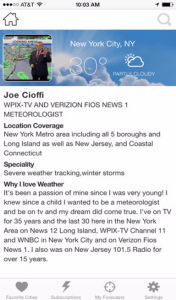 Don't be without Meteorologist Joe Cioffi's weather app. It is really a meteorologist app because you get my forecasts and my analysis and not some automated computer generated forecast based on the GFS model. This is why your app forecast changes every 6 hours. It is model driven with no human input at all. It gives you an icon, a temperature and no insight whatsoever.
It is a complete weather app to suit your forecast needs. All the weather information you need is right on your phone. Android or I-phone, use it to keep track of all the latest weather information and forecasts. This weather app is also free of advertising so you don't have to worry about security issues with your device. An accurate forecast and no worries that your device is being compromised.
Use it in conjunction with my website and my facebook and twitter and you have complete weather coverage of all the latest weather and the long range outlook. The website has been redone and upgraded. Its easy to use and everything is archived so you can see how well Joe does or doesn't do when it comes to forecasts and outlooks.
Just click on the google play button or the apple store button on the sidebar for my app which is on My Weather Concierge. Download the app for free. Subscribe to my forecasts on an ad free environment for just 99 cents a month.
Get my forecasts in the palm of your hand for less than the cost of a cup of Joe!