Euro Model Canadian Model Gfs Model Updates
With all the midday model runs done, it is becoming a little more apparent that some snow seems likely for much of the area Thursday night into Friday morning. That being said it is hard to get too worked up over this at this point for a number of reasons. For one, with regards to the blizzard and a couple of other events, in the days going into it, you could sense that something has happening. I just don't seem to have the same feel for this given what is going on in the atmosphere. In the weather events we have seen all winter, it has been a matter of a last minute northward shift. In the case of the blizzard, it became a situation where the surface low wound up being tucked in along the coast as a deep intense system. This helped to shift the areas of heavy snow further west and north than they otherwise would have been.
Euro Model Canadian Model Gfs Model Updates Surface Maps Friday Morning

The surface maps for Friday morning are all up above. All three have some snow here that develops Thursday night and continues into Friday morning. All three show a surface low develop along the Carolina Coast. So it is safe to say that during Thursday night we will see some snow here. However the snow area is pretty far to the north from the surface low. The liquid equivalents of precipitation are on the light side and basically under a quarter of an inch.
The second issue is the structure of the upper air. The timing of all the energy does not line up to favor a heavy accumulation snow for any area. The surface low will be ejected east rather than northeast or north. This is because there is energy upstream that moves everything along. There is no room for the southern stream feature to lift northward along the coast. Instead it moves out and snow gradually tapers off during Friday morning on all three models.
Euro Model Canadian Model Gfs Model Updates UPPER AIR FORECAST FRIDAY MORNING
All three models are in agreement on this though they differ slightly when you look at the super detail. The bottom line is that unless the upper air trough is deeper and further west at the last minute (which is not impossible but not likely), I would think that anywhere from a coating to maybe a few inches are possible in some areas. Much of what falls between midnight and 7am will stick being that temperatures will be cold enough to support this. After sunrise as the sun angle comes into play, I would expect roads to clear up fairly quickly unless it were to snow hard. I would not forecast more than that at this point.
Euro Model Canadian Model Gfs Model Updates Model Snowfall Forecast Maps
Model snow maps show this idea with the NAM model perhaps being a little more robust with snowfall in some inland areas where elevation will probably enhance snowfall slightly. Again a last minute northwest shift can't completely be discounted. The new NAM model is running at the moment and we will see whether it begins to show that possibility.
FiOS1 News Weather Forecast For Long Island
FiOS1 News Weather Forecast For New Jersey
FiOS1 News Weather Forecast For Hudson Valley
NATIONAL WEATHER SERVICE SNOW FORECASTS
LATEST JOESTRADAMUS ON THE LONG RANGE
Weather App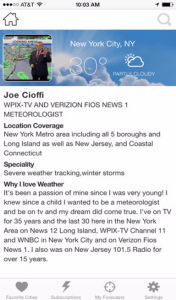 Don't be without Meteorologist Joe Cioffi's weather app. It is really a meteorologist app because you get my forecasts and my analysis and not some automated computer generated forecast based on the GFS model. This is why your app forecast changes every 6 hours. It is model driven with no human input at all. It gives you an icon, a temperature and no insight whatsoever.
It is a complete weather app to suit your forecast needs. All the weather information you need is right on your phone. Android or I-phone, use it to keep track of all the latest weather information and forecasts. This weather app is also free of advertising so you don't have to worry about security issues with your device. An accurate forecast and no worries that your device is being compromised.
Use it in conjunction with my website and my facebook and twitter and you have complete weather coverage of all the latest weather and the long range outlook. The website has been redone and upgraded. Its easy to use and everything is archived so you can see how well Joe does or doesn't do when it comes to forecasts and outlooks.
Just click on the google play button or the apple store button on the sidebar for my app which is on My Weather Concierge. Download the app for free. Subscribe to my forecasts on an ad free environment for just 99 cents a month.
Get my forecasts in the palm of your hand for less than the cost of a cup of Joe!