Enhanced Severe Weather Risk New Jersey, Severe Risk Virginia to Maine
Lower Humidity Wednesday

A cold front is on the way and the upper air dynamics are rather impressive. At least they are impressive enough that the Storm Prediction Center continues to show an enhanced risk of severe weather from North Central Maryland east to Delaware, north to Southeast Pennsylvania and New Jersey to about Route 78. In addition SPC says in their discussion that conditions could require expansion of this area northeastward into Southern New England. They will likely update their forecast around midday.
SATELLITE

REGIONAL RADAR

In the meantime radar shows a dying line of overnight storms that moved through upstate NY. They continue to weaken as they move southeast and will likely have little impact on the decreasing the unstable atmosphere.
LOCAL RADAR NEW YORK CITY
LOCAL RADAR PHILADELPHIA

It is all about heat, humidity and the chance for late day thunderstorms with highs in the upper 80s and lower 90s. Then once the cold front passes we will be seeing humidity levels drop for later tonight and Wednesday. Temperatures will drop as well and it will be a delightful day of sunshine. Highs will be in the upper 70s to lower 80s!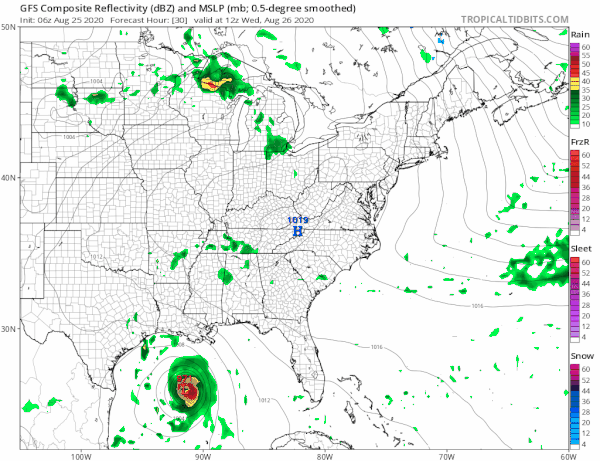 This shot of low humidity and cooler air will be short lived as another front approaches on Thursday. It quickly turns warmer and more humid with the risk for thunderstorms early as we transition to the warmer more humid air and a chance late Thursday or Thursday night as a front goes by. Highs Thursday will be in the 80s and warm spots will be near 90. This front will stall out nearby. At this point what is now Tropical Storm Laura and what would likely be Hurricane Laura would have made landfall in Southeast Texas or Southwest Louisiana and that will get involved with a developing frontal system. Look for showers and some thunderstorms Friday night and Saturday with highs in the 70s to near 80. Once the system goes by we get a shot of cooler dry air for Sunday and the start of next week.
MANY THANKS TO TROPICAL TIDBITS FOR THE USE OF MAPS
Please note that with regards to any severe weather,  tropical storms, or hurricanes, should a storm be threatening, please consult your local National Weather Service office or your local government officials about what action you should be taking to protect life and property.