Enhanced Severe Weather Risk New Jersey Pennsylvania
Enhanced Severe Weather Risk New Jersey Pennsylvania
Radars are busy this morning and the first round of rain moved offshore while a second one follows and likely a third late this afternoon and evening that will trigger off strong to severe thunderstorms. The Storm Prediction Center has narrowed the area of enhanced risk a bit but it also has pushed the northern extent of marginal risk to include NYC, Northern New Jersey & Southern areas of the Hudson Valley. To the south the area of slight risk has been pushed into Northern Virginia and Southern Delaware. The map below is the risk area over real time radar.
STORM PREDICTION CENTER FORECAST & REAL TIME RADAR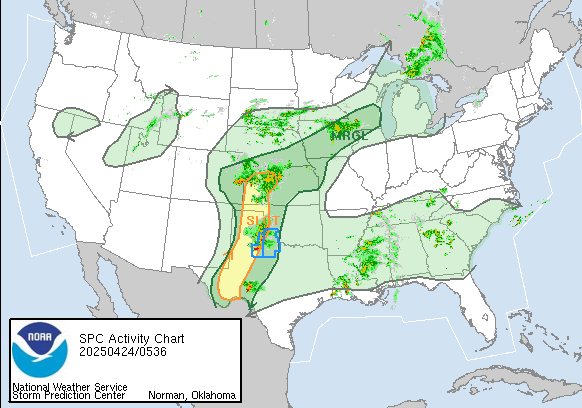 Regional radar is showing the next round of heavy downpours with a few thunderstorms in the mxi moving southeastward into New Jersey out of Northeastern Pennsylvania. There will be a break that follows and then the main area of severe thunderstorms is likely to develop late this afternoon and evening.
Looking at the short range models they all have varying ideas of where the severe thunderstorms will be and how strong a line will develop. The HRRR model has been working well of  late. It is a little less aggressive than the NAM so we go with this idea for now but be advised that the upper air dynamics do favor an extensive line of storms to develop this evening. The box area outlines what I believe is the area with the greatest risk to see a severe thunderstorm.
HRRR MODEL 8PM SATURDAY 5/12/2018
Sunday Mothers Day looks cloudy and cooler with perhaps a few passing showers going by but the day is not going to be a washout by any means. Highs will be in the 60s. Monday is looking a bit better now with clouds and some sun with highs back into the 70s. Tuesday looks to be a very warm day with highs in the 80s and the chance for late day thunderstorms. More on the week ahead later today.
FiOS1 News Weather Forecast For Long Island
FiOS1 News Weather Forecast For New Jersey
FiOS1 News Weather Forecast For Hudson Valley
LATEST JOESTRADAMUS ON THE LONG RANGE