Eastern Pa, New Jersey, NYC, Hudson Valley, Long Island, Connecticut
Flash Flood Watch Rain Overspreads Area Tonight Rainfall Forecasts

Flash Flood Watches are up tonight for much of Eastern Pennsylvania to Southeastern New England. This includes NYC, Philadelphia and Boston. A cold front is sinking southward and rain will overspread the area this evening and tonight. The key to the high rainfall forecast amounts being achieved is the develoment of a slow moving wave on the frontal boundary. This will create an enviornment of a loaded radar and a slow moving area of steady rain with heavy downpours overnight and during the day Tuesday.

Rain will start to taper off in Eastern Pennsylvania late Tuesday and we will see it continue along the coast Tuesday night and then taper off Wednesday morning. 2 to 3 inches of rain seems doable with some locally higher amounts. This is the first widespread rainfall we have seen for several months.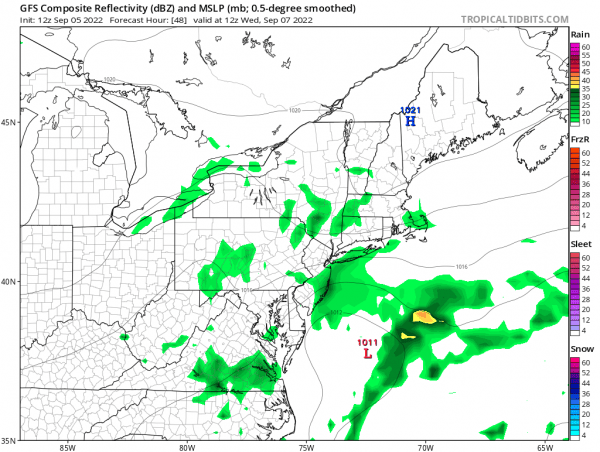 By Wednesday morning as the GFS shows there will be a wave offshore with an east wind. The steady rains will end but there will still be some leftover patches of rain and drizzle. Eventually the wave will exit and we should start to see better weather conditions developing from west to east Wednesday night and Thursday. At least the end of the week finishes dry. While it is raining temperatures will likely settle into the mid 60s to lower 70s. The remainder of the week will see highs in the 70s to near 80 Thursday and upper 70s and lower 80s Friday.
Please note that with regards to any severe weather,  tropical storms, or hurricanes, should a storm be threatening, please consult your local National Weather Service office or your local government officials about what action you should be taking to protect life and property.