Easter Sunday Sunshine Winter Weather Advisory Overnight Monday
Easter Sunday Sunshine Winter Weather Advisory Overnight Monday Morning
Easter Sunday and April has arrived and we are seeing a weather front moving through this morning with clouds which should give way to some sunshine later this morning and this afternoon. Temperatures will reach the mid to upper 50s. There are no weather issues for the rest of the day and into the first part of tonight so there will be no weather related travel issues. We are in a fast weather pattern. Today's front stalls and low pressure develops on that front in the Middle Mississippi Valley and races eastward to the Delaware coast Monday morning. This means a quick shot of snow Monday morning between 2am and 10am in most places.
US SATELLITE

REGIONAL RADAR

Weather radars this morning show two dying areas of rain showers and the line in upstate NY have some snow showers. These lines will disappear in short order.
LOCAL RADAR NEW YORK CITY
LOCAL RADAR PHILADELPHIA

Tonight clouds will rapidly increase. Snow begins during the early morning hours. Accumulations will depend on the intensity of the snowfall before 8am. After 8am the sun angle will basically limit snowfall though by they it will be mostly done in Western New Jersey and Eastern Pennsylvania and done by 10-11am along the coast. What falls at night sticks to most surfaces; what falls during the morning hours after sunrise sticks probably to colder surfaces only.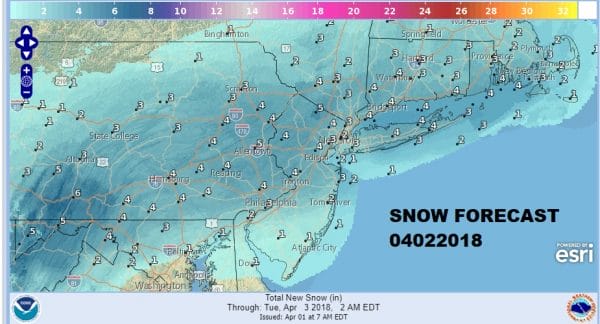 Elevation will also play a role. Several slushy inches are forecast for most areas between Route 84 to the north and Route 195 in New Jersey to the south with lesser amounts either side of those lines. This system has the potential to produce 1/2 to 3/4 inch of liquid precipitation in most areas in 6 hours time so it is likely to snow hard for a short period. At the end of the day, snow melts and this snowfall will melt very fast and much of it will be gone by later in the day particularly if the sun can make an appearance Monday afternoon. Temperatures while it is snowing will be near 32 and then rise back into the 40s Monday afternoon.
The fast pattern will bring the next weather system Tuesday and Wednesday. Rain will arrive Tuesday as a warm front approaches with temperatures in the 40s and lower 50s. Wednesday we will see a cold front with the chance for showers. Assuming the warm front gets through highs Wednesday will be in the 60s to near 70 in some places. Then it is back into the chill for the end of the week and another storm threat for next weekend.

GET JOE A CIGAR IF YOU LIKE 
FiOS1 News Weather Forecast For Long Island
FiOS1 News Weather Forecast For New Jersey
FiOS1 News Weather Forecast For Hudson Valley
LATEST JOESTRADAMUS ON THE LONG RANGE