DOWNLOAD MY NEW FREE JOESTRADAMUS WEATHER APP FOR ALL DEVICES
THE APP IS ABSOLUTELY FREE TO ALL BUT CONSIDERING SUBSCRIBING TO PATREON FOR A WEATHER EXPERIENCE FREE OF ADS, EXCLUSIVE VIDEOS FOR MEMBERS ONLY AND MUCH MORE…STARTS AT $2 A MONTH..MESSAGE ME AT ANY TIME
Easter Sunday Front Offshore Upper Low West & South
Happy Easter To All!
Easter Sunday will be a day spent in delicate balance between a frontal boundary out to the east and an upper low to our west. The path in between is fraught with perils of clouds and showers coming in from off the ocean. We saw this overnight and this morning over Southern New England & Long Island. To the west there is a dry slot of air that will put some areas in clouds and some sunshine with the chance for a pop up shower while gloom and doom will dominate the scene along coastal areas.  Take your pick folks.  The best chances for any sun like inland. Temperatures will be mostly in the 60s today. The satellite loop shows clouds offshore still moving from south to north and no real sign of any eastward shift.
SATELLITE

REGIONAL RADAR

Regional and local radars this morning show the showers just offshore streaming south to north over parts of Long Island and Southern New England. Not much of anything is showing up north and west of these areas.
LOCAL RADAR NEW YORK CITY
I don't see much change in the path going forward for tonight and Monday. We have one more wave of low pressure to get through before weather conditions generally improve for Tuesday. This will mean clouds tonight and Monday with the chance for passing showers into Monday night with the best chances along the coast. Highs will be in the 60s.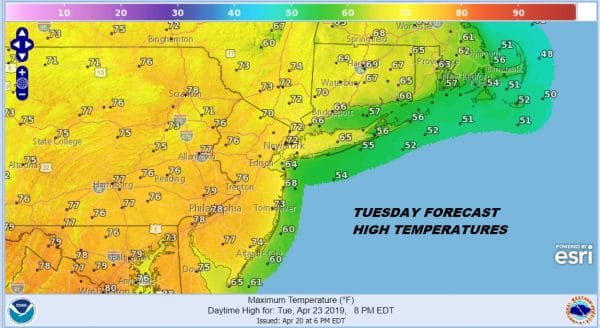 Tuesday is the day to take advantage of as we will be nice at least for 24 hours with some sunshine and highs reaching the 70s before a cold front comes through late Tuesday night early Wednesday morning. There might be a few passing showers with that but the front looks very weak. Dry weather follows for Wednesday and Thursday it seems with in and out clouds and sun with seasonal temperatures. It appears we have a rather uneventful week ahead with not much happening storm wise which is a good thing.
MANY THANKS TO

TROPICAL TIDBITS

FOR THE USE OF MAPS
Please note that with regards to any tropical storms or hurricanes, should a storm be threatening, please consult your local National Weather Service office or your local government officials about what action you should be taking to protect life and property.