DOWNLOAD MY NEW FREE JOESTRADAMUS WEATHER APP FOR ALL DEVICES
THE APP IS ABSOLUTELY FREE TO ALL BUT CONSIDERING SUBSCRIBING TO PATREON FOR A WEATHER EXPERIENCE FREE OF ADS, EXCLUSIVE VIDEOS FOR MEMBERS ONLY AND MUCH MORE…STARTS AT $2 A MONTH..MESSAGE ME AT ANY TIME
Easter Managed Some Sunshine Clouds Shower Chance Monday Nice Tuesday
We managed to break out of the cloud cover during the afternoon as evidenced by the satellite loop below. There was just enough distance between the upper air storm to our southwest and the front to the east that the low clouds broke up and the sun came out this afternoon even in coastal areas. Now we sit and wait for the last act of this play to wrap it up tonight and Monday. The satellite loop shows the upper low shifting to the Carolina coast and one last wave is developing along the front offshore. That wave heads to the northeast on Monday.
SATELLITE

REGIONAL RADAR

Radar shows scattered pop up showers in the Catskills while other showers are developing off the Delaware coast drifting slowly northward. There doesn't appear to be much nearby so that tonight we will have clouds around with most lows in the 40s.
LOCAL RADAR NEW YORK CITY
Low pressure offshore will head to Southeast New England on Monday and so will the upper low. There may be some low top downpours and thunderstorms with it but it seems like the bulk should past to the east of NYC & PHL. We will leave clouds in the forecast for Monday along with the risk for a few scattered showers. The best chances might be for Long Island & Eastern Connecticut. Highs Monday will be in the 60s.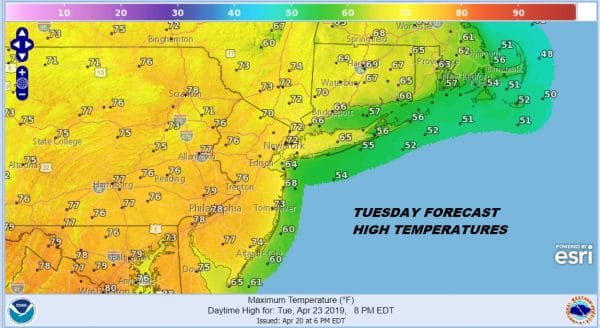 Tuesday looks like a winner this week relatively speaking with some sunshine and highs into the 70s in many areas and just a limited sea breeze at the coast. A cold front looks to pass late Tuesday night into Wednesday morning. It seems weak and pnly a few passing showers are forecast with its passage. We should go back to some sunshine Wednesday and much of Thursday with highs in the upper 60s and lower 70s.
MANY THANKS TO

TROPICAL TIDBITS

FOR THE USE OF MAPS
Please note that with regards to any tropical storms or hurricanes, should a storm be threatening, please consult your local National Weather Service office or your local government officials about what action you should be taking to protect life and property.