Dynamic Weather Pattern Ahead
Dynamic Weather Pattern Ahead
No doubt by now you have been hearing all sorts of things about the weather later next week and the pattern going forward. I haven't really spoken much about it except to point out that what you see literally drawn out on the long range stretched the visions of reality to an extreme with 2500 mile long warm fronts stretching from Baltimore to Denver. This is something that in case you didn't here never happens. However the atmospheric pressure patterns across the Northern Hemisphere are no doubt stretched to extremes at the moment and this is usually a signal that something of magnitude is going to happen somewhere.
GFS WEATHER MODEL SUNDAY DECEMBER 24
The GFS weather model Sunday night shows a strong polar vortex in Central Canada with a very strong upper high over northern Alaska into the Arctic. Upper level winds are blowing from northwest to southeast straight from the Arctic into the United States. For now the coldest air is lodged back in the Plains and upper midwest. Some of that cold air will b coming east next week and ahead of that we have a small storm system that is going to develop in our backyard Sunday night into Monday morning.
GFS SUNDAY NIGHT INTO MONDAY AFTERNOON CLICK TO ANIMATE
The cold air boundary will be lying very close to the coast Sunday night and Monday morning which makes the forecast for snow difficult. A handful of miles will make a big difference in who gets a white Christmas in our area and who doesn't. Models today have been straddling that line back and forth around NYC.
GFS SNOW FALL FORECAST SUNDAY 1PM TO MONDAY 1PM
The GFS model illustrates that much of the Northeast will be seeing snow on Christmas Eve or Christmas Day or both. For our neck of the woods it would say areas in New Jersey north of Route 78 and west of 287 in New Jersey with a line northeastward to 287 again in Westchester as the southern boundary of at least an inch and then extending east across Connecticut north of Route 15. Snow areas should see snow on the order of up to several inches with higher amounts as you head north and northeast into New England. It would not take much to shift this area down to the coast so we will be watching for subtle changes in model runs tonight and over the weekend.
DYNAMIC WEATHER PATTERN GFS JET STREAM FRIDAY 12/29/2017
Now comes the issues for next week. The jet stream is shaping up with numerous puzzle pieces and how they come together will be key to any potential storm development late next week. All the major weather models have the puzzle pieces visible. The vortex in Canada from this weekend stretches with part of it moving east out into the Atlantic with the remaining energy strengthening and dropping southeast into the Plains. A ridge builds between them in Southeastern Canada which creates a huge high pressure cell in Canada with cold air pressing southward into the East & Midwest. Low pressure develops in the Deep South & heads to the Eastern Seaboard.
GFS SURFACE MAP THURSDAY THROUGH SATURDAY CLICK TO ANIMATE
Right now as this model run sees it the puzzle pieces could lead to a significant snow event in the east. But it is not all that simple 7 days out into the future. If the upper trough is further to the west then the low ride the spine of the Appalachians. If it is further east and is weaker it could suppress the low to the southeast. The state of the teleconnections at the moment suggest that something of size is going to develop somewhere.
All 4 major teleconnection indices are making big moves at the end of next week toward the neutral zone and all 4, if correct, would be favorable for a snow event for the East Coast. The Pacific North America index going positive is a strong storm signal indicator. The new player in this particular round of events is the North Atlantic Oscillation which has been a non player this month so far. It is forecast to go from positive to slightly negative toward the end of next week which suggests that the cold air in the East will be a very important player here. For now we sit back and continue to watch all the players in this drama play their parts. How this play ends is anyone's guess.
MANY THANKS TO TROPICAL TIDBITS FOR THE WONDERFUL USE OF THE MAPS
GET JOE A CIGAR IF YOU LIKE!
FiOS1 News Weather Forecast For Long Island
FiOS1 News Weather Forecast For New Jersey
FiOS1 News Weather Forecast For Hudson Valley
NATIONAL WEATHER SERVICE SNOW FORECASTS
LATEST JOESTRADAMUS ON THE LONG RANGE
Weather App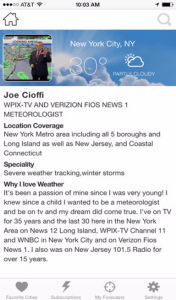 Don't be without Meteorologist Joe Cioffi's weather app. It is really a meteorologist app because you get my forecasts and my analysis and not some automated computer generated forecast based on the GFS model. This is why your app forecast changes every 6 hours. It is model driven with no human input at all. It gives you an icon, a temperature and no insight whatsoever.
It is a complete weather app to suit your forecast needs. All the weather information you need is right on your phone. Android or I-phone, use it to keep track of all the latest weather information and forecasts. This weather app is also free of advertising so you don't have to worry about security issues with your device. An accurate forecast and no worries that your device is being compromised.
Use it in conjunction with my website and my facebook and twitter and you have complete weather coverage of all the latest weather and the long range outlook. The website has been redone and upgraded. Its easy to use and everything is archived so you can see how well Joe does or doesn't do when it comes to forecasts and outlooks.
Just click on the google play button or the apple store button on the sidebar for my app which is on My Weather Concierge. Download the app for free. Subscribe to my forecasts on an ad free environment for just 99 cents a month.
Get my forecasts in the palm of your hand for less than the cost of a cup of Joe!