Dying Front Approaches Dry Decent Weather Friday Through Monday

Dying Front Approaches Dry Decent Weather Friday Through Monday

Today's weather is about a dying cold front to the west and we can see the clouds from that front moving eastward today. The front is falling apart because the storm it is connected to is well to the north in Canada and most of the energy with this is moving from the Great Lakes northeastward. Showers will move across Pennsylvania today and gradually weaken. This should leave most of the area today from Eastern Pennsylvania to Southern New England in a mix of sun and clouds. Highs north and east of NYC will reach the mid to upper 50s and low to mid 60s to the southwest.  Unless an isolated shower survives, it should be dry for just about everyone today.
SATELLITE

WEATHER RADAR

Tonight will be dry with leftover clouds giving way to some clearing. Most lows will be in the 40s to around 50. The air behind the front is dry and actually on the warm side so with sunshine Friday, Temperatures should be able to climb nicely. We are thinking upper 60s to lower 70s for highs in most places and obviously the best day of what has been a rather not so nice week.
Now let us march on to the weekend and we don't see any serious issues. The biggest issue this weekend will be the wind direction which will impact afternoon high temperatures. It basically sets up where if you are from NYC northeast through Southern and Southeastern New England, you will likely be much cooler. Areas west and south of Philadelphia and Central New Jersey will likely be warmer.
Sky conditions should be okay both days with a mix of sun and clouds overall with probably more clouds northeast and fewer southwest. Temperatures Saturday will be in the low to mid 60s for highs with readings cooler along south and east facing shorelines.
You can see the differences in the high temperature profile for Sunday thanks to onshore winds from NYC north and east with highs just in the upper 50s and lower 60s. But to the southwest and west we will see temperatures in the 70s and we may even see some 80 degree readings in parts of Maryland and Northeastern Virginia. Again it should be no worse than a mix of sun and clouds on average.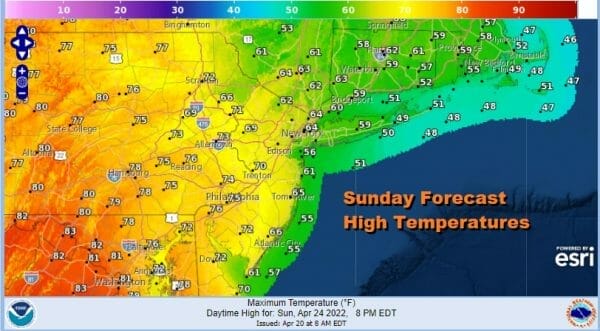 Next week we see a dry Monday before another cold front arrives Tuesday with a chance for showers. After that a developing blocking pattern is likely to keep things on the chilly side of average for the second half of next week and for now it looks dry but blocks and spring could be troublesome like we saw earlier this week so we need to keep our eyes on how the pattern evolves for later next week and next weekend.
Please note that with regards to any severe weather,  tropical storms, or hurricanes, should a storm be threatening, please consult your local National Weather Service office or your local government officials about what action you should be taking to protect life and property.