DOWNLOAD MY NEW FREE JOESTRADAMUS WEATHER APP FOR ALL DEVICES
THE APP IS ABSOLUTELY FREE TO ALL BUT CONSIDERING SUBSCRIBING TO PATREON FOR A WEATHER EXPERIENCE FREE OF ADS, EXCLUSIVE VIDEOS FOR MEMBERS ONLY AND MUCH MORE…STARTS AT $2 A MONTH..MESSAGE ME AT ANY TIME
Dry Weekend Warmer Sunday, Rain Snow Showers Monday
Our now major storm developing in New England continues to strengthen. We are waiting for a second upper trough to move through this evening. You can see the second swirl of clouds moving southeast from the Great Lakes and pivoting eastward. It is strengthening the low to the northeast and it has its own area of rain and snow that is moving eastward. This area will swing through this evening and parts of the area will see a few more showers. In elevated areas in Northeastern Pennsylvania, Northwest New Jersey northward into the Catskills will see another burst of snow from this. A foot of snow could accumulate in the Catskills and snow levels will be generally above 1000 feet.
SATELLITE

REGIONAL RADAR

Bands of snow continue in upstate NY into Western New England. Meanwhile the second upper trough is producing precipitation back in Pennsylvania and that is the area that needs to pass through this evening before the winds strengthen and gusts of 40 mph or more are possible overnight into Saturday. Overnight the radar echos will all shift east and some snow showers are possible over parts of Connecticut and they could reach as far south as Eastern Long Island. No accumulations are forecast from this except in elevated areas from Northern Connecticut north of Route 84 northward.
LOCAL RADAR NEW YORK CITY
LOCAL RADAR PHILADELPHIA

Moving through the weekend there are no real important changes. Sunshine and a few clouds with gusty winds for Saturday with highs in the upper 40s to lower 50s. Sunday as the winds ease and go westerly we could see upper 50s and lower 60s. Then on to Monday as the next weather system from the Plains moves east and cold air from Canada spreads out across the Great Lakes.
The northern jet unlike what we are seeing with today's system is more like a bowling ball dropping south with nothing coming down and phasing with the southern system. In fact the opposite happens here with the northern stream basically squashing the southern stream energy to the south and east. This will likely bring the cold front through first Monday morning and then the wave follows Monday night to off the North Carolina coast Tuesday morning and out to the east after that. My thinking is that there will be some rain showers coming in on Monday. The air behind the front is cold enough that we could see some snow showers on the backside but this doesn't have potential to amount to anything given how flat the flow is.
TT
Tuesday and Wednesday morning lows will be cold with lows in the 20s to near 30 both nights and highs Tuesday Wednesday just in the 40s.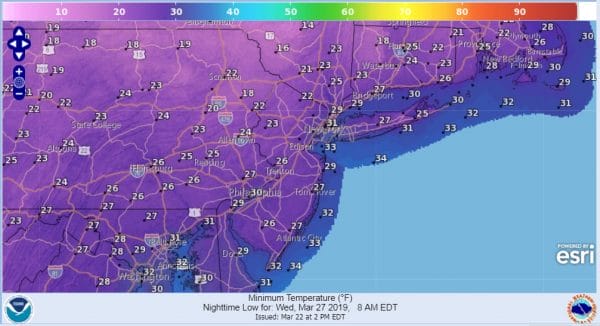 We should begin to see temperatures moderate back into the 50s on Thursday and 60s are possible Friday. We should see some sunshine both days as high pressure moves off the East Coast. Local temperatures of course will be impacted by wind direction and the amount of sun. Coastal areas of course will need to beware the south wind this time of year which will keep afternoon temperatures about 10 degrees cooler than inland areas.
MANY THANKS TO TROPICAL TIDBITS FOR THE USE OF MAPS
Please note that with regards to any tropical storms or hurricanes, should a storm be threatening, please consult your local National Weather Service office or your local government officials about what action you should be taking to protect life and property.