Weather conditions are forecast to improve after midnight tonight and then we should see a few nice days back to back. The only issue for Wednesday is that some inland places could see a shower or two but nothing outrageous and they should be isolated in nature.  High pressure builds in from the north and then settles south of us by Friday. Wednesday night and Thursday night should be rather cool especially away from urban areas. 50s will not be uncommon. Highs Wednesday will be in the low to mid 80s but only upper 70s to lower 80s on Thursday.
By Friday with the high to our south and a west wind it should start to warm up again and that will be the trend into the weekend. 80s for both days and some spots Saturday could be near 90. Late Saturday a weak front arrives but it wont be all that problematic other than the scattered thunderstorm or two that could develop.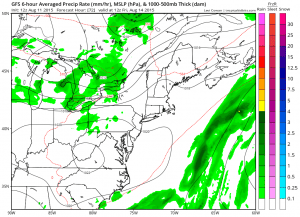 Beyond Saturday very warm air will be building across the south and mid Atlantic states and some of that could get here for the beginning of next week. Sunday looks good..very warm with highs well into the 80s to near 80. I would not be surprised to see temperatures into the 90s Monday and Tuesday of next week.

We got some rain today on the order of .75 inch to 1.50 inches on average which was okay..underperformed but better than nothing. Some places will add to their totals this evening. Here are the latest storm reports from the National Weather Service NY/NNJ and here are the reports for South Jersey and Southeast Pennsylvania.