Dry Cool Air Next Two Days Rain Thunderstorms Thursday Night into Friday
Dry Cool Air Next Two Days Rain Thunderstorms Thursday Night into Friday

Last night's cold front has come through with little fanfare other than clouds and now we will see a dry cooerl air mass build into the Northeast and Northern Mid Atlantic states for the next couple of days. Some high clouds are streaming southeastward from the Great Lakes and these clouds will ebb and flow. Dew points overnight have dropped into the low 50s and they will remain low all day long. Skies should be no worse than partly sunny and temperatures today will top out probably in the upper 70s to around 80 or so in most places. Radars are nice and quiet and we have no rain concerns into Thursday.
SATELLITE WITH LIGHTNING STRIKES

WEATHER RADAR

Skies will be nice and clear tonight and it will be rather cool with most lows in the 50s except for the warmer urban locations which will bottom out in the lower 60s. Wednesday will be another day of no worse than partly sunny skies with low dew points and very comfortable conditions. Highs again will be in the upper 70s and lower 80s.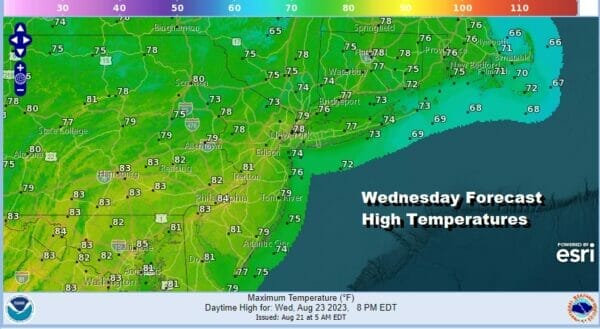 Wednesday night into Thursday morning the dry air mass will move offshore and to the east. Attention turns to low pressure moving east out of the Northern Plains and Great Lakes. A warm front will approach so clouds will develop Wednesday night. Thursday the warm front will be to the west and we will see some showers develop and perhaps a possible thunderstorm.
The warm front will struggle to move through Thursday night and we will likely continue to see showers and perhaps a thunderstorm or two as it ultimately goes by. Thursday's highs will be mostly in the 70s. Im going under the digital map forecast numbers given the cloud cover and showers.
Friday sees the cold front coming and after some showers and thunderstorms early in the day, they should move out to the east. The front will set up offshore and not that far away for the weekend and the next high will build to the north. This likely keeps us in an onshore flow over the weekend and that may create complications with clouds and a bit of a doom and gloom type scenario coupled with a cool northeast wind. To the south in the Atlantic we have the GFS and other models showing Tropical Storm Franklin moving up the East Coast but well offshore as a hurricane and recurving to the northeast early next week. A second cold front coming down from Canada will sweep it eastward. This is probably the most likely solution but there are a few things going on which are nagging me in terms of the upper air pattern so I'm going to exam models very carefully over the next few days. Again the most likely solution will be an offshore track that roughs up the surf next week and we just stay predominatly cool and mostly dry for the first half of next week.
MANY THANKS TO TROPICAL TIDBITS FOR THE USE OF MAPS
Please note that with regards to any severe weather,  tropical storms, or hurricanes, should a storm be threatening, please consult your local National Weather Service office or your local government officials about what action you should be taking to protect life and property.
(Amazon is an affilate of Meteorologist Joe Cioffi & earns commissions on sales.)