Dry Cold Weekend Gloom & Doom Return Early Next Week
We seem to be putting these dry streaks together during and around weekends lately so that at least is a good thing. Our storm in Eastern Canada is weakening somewhat but it is still producing late effect action today in parts of Upstate NY and will likely do so tomorrow as well. Today we are looking at sunshine and some clouds, breezy conditions but not nearly as windy as yesterday and temperatures reaching the upper 30s and lower 40s in most places. The satellite picture this morning shows clouds to the northwest as well as nearby. We have an upper air trough coming through which will limit sunshine but no precipitation is forecast unless a snow shower were to slip in.
SATELLITE

REGIONAL RADAR

Skies tonight will become mostly clear with lows by Saturday morning in the upper teens to mid 20s. Saturday will be the coldest of the two weekend days and a little below average for the last day of the month of February. Highs will be mostly in the 30s. This actually is about 10 degrees below average for this time of year. We should be up in the low to mid 40s.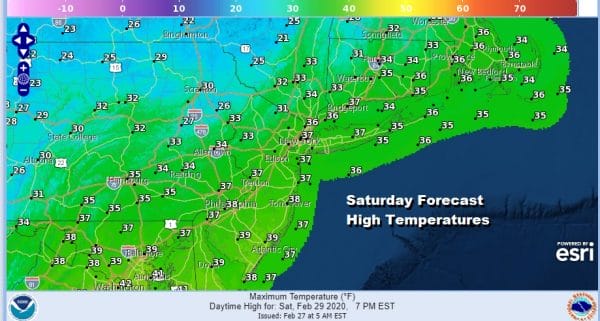 We should see a good deal of sunshine Saturday and Sunday we will have sunshine giving way to some high clouds. Highs will be in the upper 30s to some lower 40s as the core of the cold air begins to pull out.
There is nothing new in the outlook for the first half of next week. We have a frontal boundary that will be approaching on Monday and it will be another case of a stalling front and several waves moving along it bringing rain northeastward. Monday we will see the weakest of the waves with some scattered showers around.
The last wave on Wednesday is the strongest of the trio and we will have the heaviest rain with that. This system also might produce severe weather across the Gulf States and the Southeast US Tuesday into Wednesday. It will also bring temperatures in the 50s and 60s up the coast for Tuesday and Wednesday as well. It is getting to that time of year where temperature bounces are higher under the right circumstances.
I just wanted to give a quick update here to the snow going on in upstate NY due to lake effect and snows down the Appalachians to Northern Georgia from the upper trough swinging through. These forecast snow amounts are in addition to what has already fallen. Many areas in upstate NY have already picked up 1 to 2 feet yesterday and overnight. There is more to go here with the lake effect machine not forecast to shut off until late Saturday.
MANY THANKS TO TROPICAL TIDBITS FOR THE USE OF MAPS
Please note that with regards to any severe weather,  tropical storms, or hurricanes, should a storm be threatening, please consult your local National Weather Service office or your local government officials about what action you should be taking to protect life and property.