Dry Chilly Weather Through The Weekend No Major Storms Ahead

Weather in 5/Joe & Joe Weather Show Latest Podcast
Dry Chilly Weather Through The Weekend No Major Storms Ahead
A strong block continues to have a stranglehold on the weather pattern in the Eastern US. Traffic jams of storms in the Atlantic east of New England and south of Greenland are forcing storm tracks across the Southern US and the only exit open is a track straight to the east rather than turning to the north.
Low pressure is going to move northeast from the South Carolina coast today and tonight as snow continues from the Carolina mountains to Southern Virginia. We here will be sitting in sunshine and high clouds. Highs will be in the upper 30s and lower 40s. This storm is not coming here.
SATELLITE

Regional radar is showing snow and rain coming in range of Southern Virginia but as the snow moves into dry air over Northern Virginia it evaporates. Our radars across the Northeast US are in silent mode.

So we move along on cruise control through the weekend with pretty much the same weather we have seen all week. Partial clearing of skies tonight with high clouds from the southern storm nearby. Lows will be in the mid 20s to lower 30s. Saturday as the storm pulls away we should go mostly sunny with highs in the upper 30s and lower 40s with a gusty wind. More of the same is forecast for Sunday with sunshine. Highs again will be in the upper 30s and lower 40s.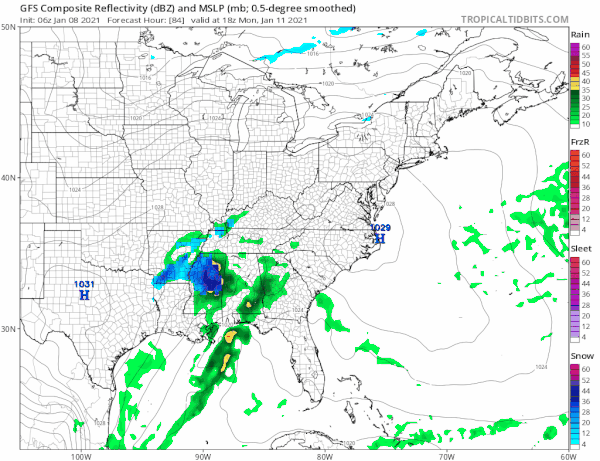 The next storm system in this wave train moves across the southern states Sunday and Monday and it makes the turn northward. The block to the northeast is strong but there is a chance it could relax enough to allow this low to get close. The issue of snow is the lack of cold air or just the presence of marginal cold air at best. Unless models show something more vigorous where we could make a case for dynamic cooling, this would seem to be mostly a rain affair. We will talk more about this later today after the next model cycle is done.
MANY THANKS TO TROPICAL TIDBITS FOR THE USE OF MAPS
Please note that with regards to any severe weather,  tropical storms, or hurricanes, should a storm be threatening, please consult your local National Weather Service office or your local government officials about what action you should be taking to protect life and property.