Drier Air Arrives Low Humidity Decreasing Clouds Nice Saturday Okay Sunday Lovely Next Week
The weekend has taken a more optimistic turn as it now appears Sunday's cold front will be much weaker and will have much less to work with. In fact it is quite possible that we may not see a drop of rain for the next 8 or 9 days! We do have some leftover clouds to work through today but we will see clouds decrease and sunshine increasing this afternoon. Lower humidity will take hold and temperatures today will be mostly in the 70s. That should lead us to clear skies tonight with Saturday morning lows in the 50s just about everywhere! Radars are showing overnight showers and downpours well offshore and we will have no radar issues into Sunday and probably all of next week.
SATELLITE

REGIONAL RADAR

Moving on to the weekend Saturday will be nice dry and mainly sunny with highs in the 70s. We do have a cold front that will be approaching for Sunday which will mean a little warmer and a little more humid for Sunday but it seems now that the front will weaken and showers in Western NY and Western Pennsylvania will never make it here. We may be no worse than clouds with some breaks of sun for Sunday with highs in the upper 70s and lower 80s.
Next week it is about 2 high pressure areas building down from Canada and a weak cold front separating the two. The first  high comes in and goes out. The second one comes in behind it and reinforces the dry air in the Northeast and Northern Middle Atlantic states and our week is set. We will see at least some sunshine each day. Highs Monday will be in the 70s and we will be down in the 40s and 50s by Tuesday morning.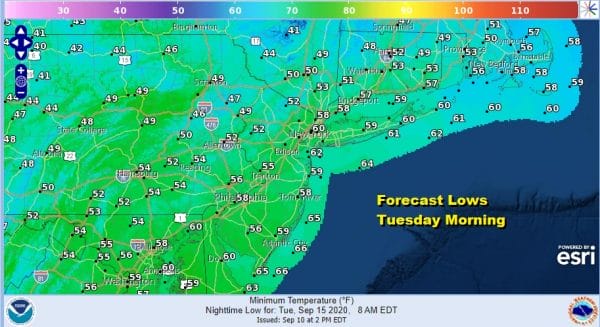 Tuesday could be a very cool day with sunshine and highs in the upper 60s and lower 70s. The rest of the week looks the same with at least some sunshine each day and highs in the 70s. Meanwhile Tropical Storm Paulette is forecast to become a hurricane and head for a very close pass to Bermuda early next week. Though Paulette will take the turn to the right it will be interacting with a strong high to the north of it. This will likely produce some very rough surf along the East Coast.
We are protected from tropical systems thanks to the northwest flow that will be over the northeast all of next week and in fact the next important cold front with any threat for showers may not approach us until next weekend!
MANY THANKS TO TROPICAL TIDBITS FOR THE USE OF MAPS
Please note that with regards to any severe weather,  tropical storms, or hurricanes, should a storm be threatening, please consult your local National Weather Service office or your local government officials about what action you should be taking to protect life and property.