Downpours Warm Humid Week Ahead Outlook
Downpours Warm Humid Week Ahead Outlook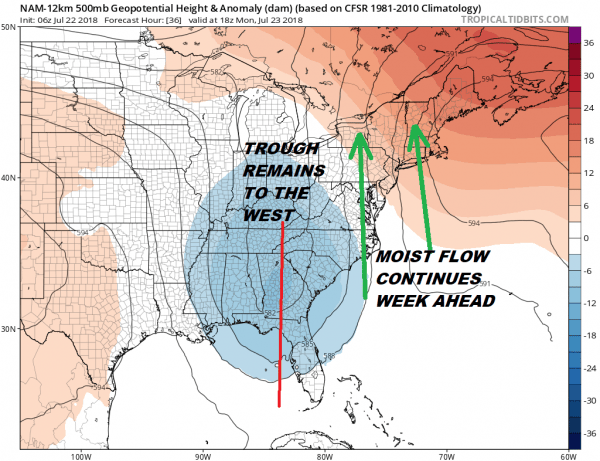 Lasts night's non tropical weather system is now moving northwestward into Canada. We remain under the influence of a strong upper low to the west and a southerly flow along the East Coast. There are a lot of clouds on the satellite loop this morning which is something we will be fighting against today. The sun will make periodic breakthroughs however this will like cause the development of some downpours later today. This morning the arc of clouds to the east is the band of clouds and rain that moved through overnight and much of that rain is now well to the east and north of us with no further impact.
EASTERN SATELLITE

REGIONAL RADAR

Regional and local radars show that we will get a bit of a break this morning but later today look for some patchy areas of downpours and thunderstorms to develop. Not everyone will see these downpours so your day is a bit of a dice roll when it comes to whether it rains or whether it doesn't. One thing for sure is it will be humid with temperatures into the 80s.
LOCAL RADAR NEW YORK CITY
LOCAL RADAR PHILADELPHIA

The week ahead will be warm and humid every day with the chance for downpours or some thunderstorms. As far as the who what when and where of it, the best thing we can say is that the risk is there pretty much every day at anytime although the highest risk is during the afternoon and evening hours. Some days you will see them, some days your friends will see them, some days both of you will seem, and some days neither of you will see them. Just remember that the risk is there. It will be very warm and humid all week with temperatures in the 80s every day. Some breaks of sun will cut through the clouds from time to time making it even warmer and more uncomfortable and then creating more downpours. It is a bit of a feedback loop issue.
Please note that with regards to any tropical storms or hurricanes, should a storm be threatening, please consult your local National Weather Service office or your local government officials about what action you should be taking to protect life and property.

GET JOE A CIGAR IF YOU LIKE 
LATEST JOESTRADAMUS ON THE LONG RANGE