Downpours Around Gusty Winds But System Weakens
Downpours Around Gusty Winds But System Weakens
While there have been some downpours and thunderstorms that moved through New Jersey today they did not live up anywhere close to model forecasts. It seems that even with all the dynamics around, everything just never really came together and most of the downpours and thunderstorms remained weak. There have been isolated reports of some damage but the widespread thunderstorm activity never materialized. Now the axis of the heavy weather has shifted toward the coast as the satellite loop shows. Part of the problem is while we have a deep upper trough over the Great Lakes it is well to the west of the frontal zone and it is not lending any real support to development.
SATELLITE LOOP

REGIONAL RADAR

The rains and downpours have been more extensive in the Hudson Valley as the radar indicates. Most of those are moving north northeastward into Western Connecticut. Some downpours in the ocean are now aiming for Long Island as they lift up to the north northeast and they will impact the evening commute especially in the Western half of Long Island.
LOCAL RADAR NEW YORK CITY
LOCAL RADAR PHILADELPHIA

The HRRR model rainfall forecast remains bullish but probably will be overdone unless the offshore cells strengthen in the next few hours which the model does show happening. We remain rather skeptical of this given the performance so far.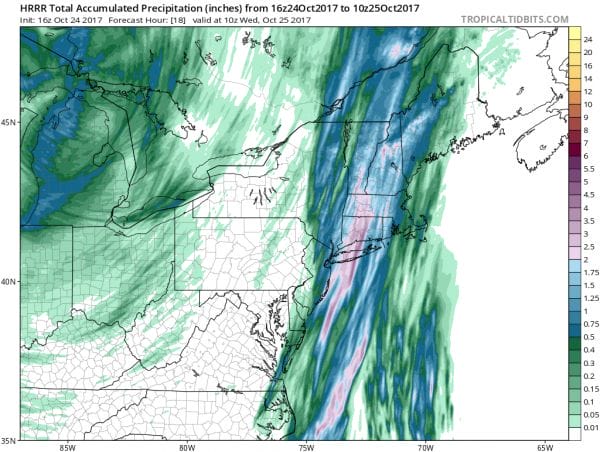 While weather conditions on Wednesday improve from New York City westward, clouds will be an issue especially on Long Island where there could be some lingering shower. The front stalls out and another wave develops on it. This will have to be watched as it may complicate things for Thursday.

GET JOE A CIGAR IF YOU LIKE 
FiOS1 News Weather Forecast For Long Island
FiOS1 News Weather Forecast For New Jersey
FiOS1 News Weather Forecast For Hudson Valley
LATEST JOESTRADAMUS ON THE LONG RANGE