Dorian Fringe Rain Gales Along Coast Dry Nice Weather Weekend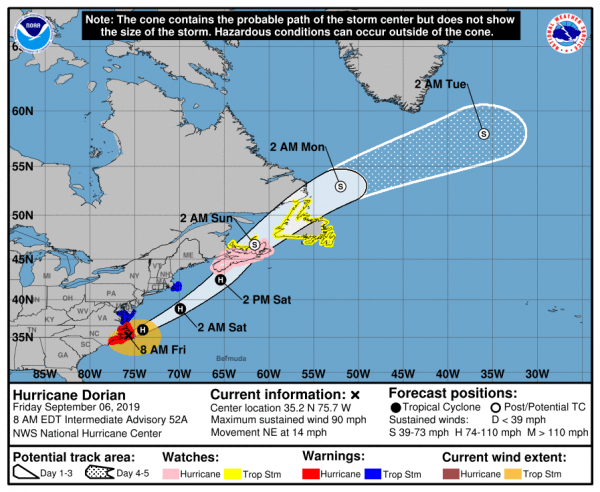 Dorian has come into full view of the tight satellite picture as the hurricane moves from Cape Hatteras North Carolina and begins to accelerate to the northeast. The next stop for this historic hurricane will be Nova Scotia on Saturday where hurricane warnings are in effect. Tropical Storm Warnings are in effect for New Foundland. We are in between today and the track of Dorian puts us on the fringe of some of the outer bands as well as gale force winds that might reach to the beaches of Long Island & New Jersey for a brief time. Otherwise this has not impact and for much of the area today from New Jersey to Southern New England we will see overcast skies. The northern most outer band has made it into Southern New Jersey.
SATELLITE

REGIONAL RADAR

We have quite a bit of dry air aloft just to our north and these outer bands will come into the dry air and tend to weaken or dry up completely. The solid core of rain is down in Southern Delaware to Southeast Virginia. The bulk of that area will move out to the east northeast as Dorian tracks in that direction. North and west of the coast the radars are silent and I don't expect rain to get much further north than the immediate coast.
LOCAL RADAR NEW YORK CITY
LOCAL RADAR PHILADELPHIA

Dorian will make its closest pass to this region tonight as it passes about 250 miles or so to the south and east of New Jersey and Long Island. While there should be no issues here Tropical Storm Warnings are up for Cape Cod and the islands in Southeastern New England where gales and some heavier rain should come in overnight. Wind gusts here won't amount to much along our shorelines. The maps below show wind gusts forecast for 8pm tonight and 4am Saturday.
Many times after a hurricane passes we go into a nice dry stretch of weather. While it won't be picture perfect this weekend since we do have two weak disturbances moving through, we should be no worse than a mix of sun and clouds for Saturday and Sunday. Temperatures are going to be in the mid to upper 70s in most places on Saturday and upper 60s to mid 70s Sunday and Monday. Nice dry weather actually lasts into Wednesday of next week as that is when the next cold front will arrive. Therefore we get through the cloudy raw day today with Dorian passing us by (for the most part) and then it is on to 5 nice days in a row.
MANY THANKS TO

TROPICAL TIDBITS

FOR THE USE OF MAPS
Please note that with regards to any tropical storms or hurricanes, should a storm be threatening, please consult your local National Weather Service office or your local government officials about what action you should be taking to protect life and property.