Does The Week Ahead Forecast Include The Chance For Some Snow?
We are wrapping up a nice weekend of weather which was on the chilly side of average for both days. Now it is on to another cold night with most lows in the 20s to lower 30s inland and in the mid to upper 30s in the warmer urban locations. We are seeing some frost advisories for areas that have yet to see their first frosts and this includes Long Island and into Westchester County. Most other places have seen their first killing frost. The only areas left really are the warmer urban locations and some coastal areas. Satellite views show mainly clear skies and the radars remain in silent mode.
SATELLITE

REGIONAL RADAR

Monday brings another day of sunshine with highs reaching the low and middle 50s. We won't be as cold Monday night as the high moves out and a southwest wind develops ahead of a cold front on Tuesday. We should see clouds with some sunshine Tuesday with the risk for a scattered passing showers. Highs will be in the low to mid 60s. The weak front pushes offshore Tuesday night with some sunshine Wednesday. Then another weak front approaches and attempts to move through Wednesday night.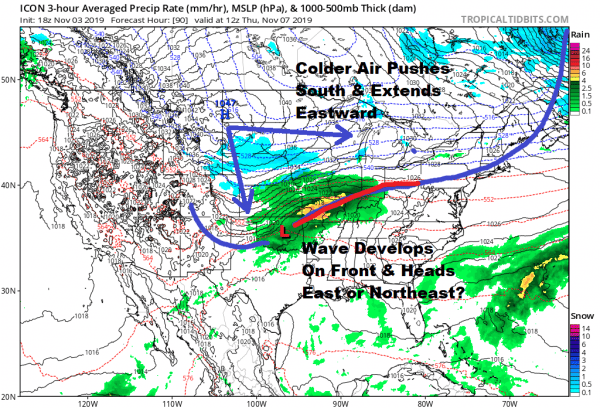 Weather models are struggling with a number of issues here beginning on Thursday. The first is the arrival of cold air which as illustrated above moves south into the Southern Plains and eastward into the Northeast. Just exactly which push is more dominate is a big question here and it is hard to get a sense of which way this goes. The Icon model drops more of the cold air in the west as that wave moves out northeastward tracking in Pennsylvania and then into New England with a mostly inland track. This leaves us with rain here Thursday night into Friday morning before it turns much colder for later Friday and the weekend.
The Gfs is on the other extreme here with more of the high going east into the Great Lakes and Northeast which brings cold air in. However it also suppresses everything to the south leaving us basically with a cold front passage on Thursday with very cold air for this time of year coming in for Friday and into the Weekend.
Then we have the European and the early Icon Model from today which basically splits the difference between the two and brings snow to areas from just inland of the coast and then increases the snow area across Pennsylvania, Northern New Jersey, the Hudson Valley and much of New England. It boils down to how aggressive (are not) models are with two short waves. One in the northern jet stream that will be pivoting around the Great Lakes and a southern short wave that comes in over Southern California and gets ejected east.
The interaction of these two streams if at all is a critical part of this puzzle and other than the usual weather hysterics of throwing maps up of different models (something we don't do here), figuring this out 5 days ahead is impossible in spite of what others may say. Watch the northern part of this jet stream which i believe is the most important factor here. There is lots of energy running around and models at this point have no real solid handle on how this all plays out and probably won't until midweek.
MANY THANKS TO TROPICAL TIDBITS FOR THE USE OF MAPS
Please note that with regards to any severe weather,  tropical storms, or hurricanes, should a storm be threatening, please consult your local National Weather Service office or your local government officials about what action you should be taking to protect life and property.