Developing Coastal Storm Cold Front Friday into Saturday
Followed By Another Cold Shot Northeast & Mid Atlantic
Developing Coastal Storm Cold Front Friday into Saturday
Followed By Another Cold Shot Northeast & Mid Atlantic

We have a few days before we have to deal with a cold front moving in from the northwest and a major storm that will form off the Florida East Coast and then head northeast up the coast and mostly offshore. We will have more on this shortly but for now we have a an upper trough over New England that has Eastern Pennsylvania to Southern New England on the edge of clouds.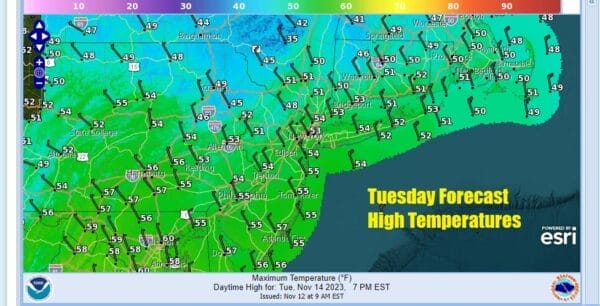 The clouds are fading however as they move southeast and the upper trough will continue eastward today so we should be no worse than partly sunny today and gradually become mostly sunny. The trough is keeping a warm up from getting underway but with more sun today, highs should reach the low to middle 50s in most places. Radars are showing some snow showers well to the north in Upstate NY and New England but those snow showers should dry up as the day wears on and they are of no concern here.
SATELLITE WITH LIGHTNING STRIKES

WEATHER RADAR

As the upper trough moves away we will get into a ridge position for Wednesday and Thursday and that will allow temperatures to bounce higher. Skies will be clear tonight with lows in the upper 20s to mid 30s and in some places where winds drop off we could see lower lows into Wednesday morning.
Wednesday should be a nice day of sunshine and that should allow highs to rise to the middle and upper 50s in most places. We will continue to edge higher Thursday with a weak high moving out offshore. Sunshine should dominate the day and highs will reach the upper 50s and lower 60s.
While we are enjoying nice weather low pressure is moving east across the Northern Gulf of Mexico with rain continuing along the Gulf Coast and moving over Florida. That low will redevelop off the Florida coast Thursday night and then head northeastward up the coast offshore and it will intensify into a major storm offshore.
It appears that low will pass just far enough offshore to spare most of the area a heavy rain event but we have a cold front that will complicate things as it heads east and the storm rides northeastward on the east side of the frontal boundary. It seems that Friday will be a dry day ahead of both systems with increasing clouds and highs into the 60s. Then we could see rain from the coastal low brush Long Island and Eastern New England with rain Friday night into Saturday morning while the cold front moves east and produces some some rain or showers Friday night into Saturday afternoon. Once the front passes colder air returns for Saturday night and that leaves us with colder but dry weather Sunday and Monday. There are a lot of balls in the air for Thanksgiving week as it looks as if we have another cold front and possibly another developing low and that could complicate travel later Tuesday and Wednesday and cold air plus wind could follow for later Wednesday into Thanksgiving Day. Currently there is much uncertainty as to how things play out next week and we will stay on top of it.
MANY THANKS TO TROPICAL TIDBITS FOR THE USE OF MAPS
Please note that with regards to any severe weather,  tropical storms, or hurricanes, should a storm be threatening, please consult your local National Weather Service office or your local government officials about what action you should be taking to protect life and property.
(Amazon is an affilate of Meteorologist Joe Cioffi & earns commissions on sales.)