DOWNLOAD MY NEW FREE JOESTRADAMUS WEATHER APP FOR ALL DEVICES
THE APP IS ABSOLUTELY FREE TO ALL BUT CONSIDERING SUBSCRIBING TO PATREON FOR A WEATHER EXPERIENCE FREE OF ADS, EXCLUSIVE VIDEOS FOR MEMBERS ONLY AND MUCH MORE…STARTS AT $2 A MONTH..MESSAGE ME AT ANY TIME
Deepening Low Moves Northward Strong Winds Begin Friday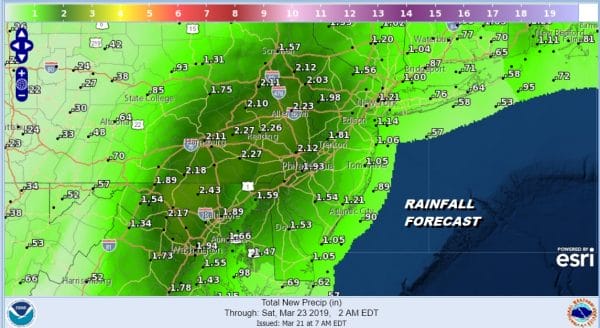 We continue to watch the deepening low along in Southeast Virginia slowly move its way northward. The satellite loop shows a well defined signature of a slowly intensifying system organizing. You can also see the system to the west gradually merging with the developing storm. It will all be one entity as it heads our way with more rain.  Flood Watches continues for much of the western half of New Jersey and Eastern Pennsylvania where 2 inch plus rains are forecast.
SATELLITE

REGIONAL RADAR

On the regional and local radars the heaviest rain so far is in Northeast Virginia and Northern Maryland, Southeast & South Central Pennsylvania. The rain to the east has been a bit more sporadic so far but the regional as well as the local radars show that rain filling in. There is a blob of heavy rain that has developed off the Delaware coast and that area will be spreading across eastern New Jersey and eventually over NYC, Long Island and Southern New England this evening and tonight.
LOCAL RADAR NEW YORK CITY
LOCAL RADAR PHILADELPHIA

We can follow the progress of the next 24 hours on the NAM model which matches up very well with the radar trends. It will be raining everywhere this evening with some locally heavy downpours. The main rain shifts northward overnight with just some leftover showers around in the morning. Some sun could break through the clouds Friday  but then an upper trough will bring the chance for showers later in the afternoon and evening.
While all this is going on the pressure gradient will be tightening up and winds will be increasing from the northwest on Friday particularly in the late afternoon and at night. Look for winds to increase to 20 to 35 mph sustained with gusts into the 40s Friday night through the daytime Saturday.  Skies should clear Friday night. Temperatures Friday will be in the 50s and drop into the 30s at night.
Saturday will be mostly sunny and windy with highs in the low to mid 50s. Sunday the gradient relaxes and winds turn to the west. Sunshine should send temperatures in the 50s near 60.  Monday brings another front and a wave to the west. Cold high pressure from Canada will be dropping southward. Look for increasing clouds Monday with highs in the upper 50s and lower 60s with some showers late in the day. Right now it would appear that there won't be any complications other than a few snow shower Monday night once the cold air starts to arrive. Weather conditions improve on Tuesday though it will be cold with developing sunshine and highs in the cold 40s.
MANY THANKS TO

TROPICAL TIDBITS

FOR THE USE OF MAPS
Please note that with regards to any tropical storms or hurricanes, should a storm be threatening, please consult your local National Weather Service office or your local government officials about what action you should be taking to protect life and property.