DANGEROUS SURF RIP CURRENTS
Dangerous Surf Rip Currents
Risk High Through Labor Day
Hurricane Gaston continues to send waves west northwestward to the New Jersey coastline. Between the waves from Gaston and Tropical Depression 8 moving northeastward over the next 2 days, Rip current risk is high and surf will build to 6 feet or higher.
...DANGEROUS RIP CURRENTS WITH ROUGH SURF CONDITIONS CONTINUE
AT THE NEW JERSEY AND DELAWARE BEACHES THROUGH WEDNESDAY AND
POSSIBLY THROUGH THE LABOR DAY WEEKEND...

.A COMBINATION OF SOME TROPICAL CYCLONES OF VARYING INTENSITY IN
THE ATLANTIC BASIN...WELL TO THE EAST AND SOUTHEAST OF NEW JERSEY
AND DELAWARE THIS WEEK...AND PERIODS OF ONSHORE WIND...WILL
NOTICEABLY INCREASE THE DANGER FOR THE FORMATION OF RIP CURRENTS.
ROUGH SURF CONDITIONS WILL LINGER THROUGH WEDNESDAY BEFORE
TEMPORARY IMPROVEMENT IS ANTICIPATED FOR THURSDAY.
HOWEVER...ANOTHER EXTENDED PERIOD OF ROUGH SURF ZONE CONDITIONS IS
LIKELY TO DEVELOP FRIDAY OR SATURDAY...POSSIBLY LINGERING THROUGH
LABOR DAY.

DEZ004-NJZ014-024>026-311000-
/O.CON.KPHI.BH.S.0001.000000T0000Z-160901T0000Z/
DELAWARE BEACHES-EASTERN MONMOUTH-ATLANTIC COASTAL CAPE MAY-
COASTAL ATLANTIC-COASTAL OCEAN-
837 PM EDT TUE AUG 30 2016

...BEACH HAZARDS STATEMENT REMAINS IN EFFECT THROUGH WEDNESDAY
EVENING...

THROUGH WEDNESDAY...THERE REMAINS A MODERATE RISK FOR THE
FORMATION OF DANGEROUS RIP CURRENTS AS LONG PERIOD SWELLS
CONTINUE TO ROLL IN. THIS IS RESULTING IN ROUGH SURF CONDITIONS.

THE LARGE BREAKERS IN THE BEACH SWIMMING ZONE CAN KNOCK SWIMMERS
AND WADERS INTO THE SAND...CAUSING INJURY.

IT IS STRONGLY ADVISED TO SWIM ONLY IN DESIGNATED AREAS WATCHED
BY LIFEGUARDS. SWIMMING AFTER THE LIFEGUARDS GO HOME OR WHERE
LIFEGUARDS DO NOT HAVE YOU IN SIGHT RAISES THE RISK OF INJURY OR
DEATH DUE TO RIP CURRENTS. SOME BEACHES HOWEVER MAY NO LONGER
HAVE LIFEGUARDS ON DUTY NOW THAT IT IS LATE IN THE SEASON.

PRECAUTIONARY/PREPAREDNESS ACTIONS...

A BEACH HAZARDS STATEMENT IS ISSUED WHEN THREATS SUCH AS RIP
CURRENTS...LONGSHORE CURRENTS...SNEAKER WAVES AND OTHER HAZARDS
CREATE LIFE-THREATENING CONDITIONS IN THE SURF ZONE. CAUTION
SHOULD BE USED WHEN IN OR NEAR THE WATER.
With respect to weather conditions on Wednesday we look for a good deal of sunshine for much of the day. It will be warm and more humid ahead of the next cold front. No showers are forecast until overnight Wednesday night until about day break on Thursday. Wednesday's highs will be in the mid to upper 80s. Then on Thursday once the front moves offshore a big high builds in from the north. Thursday will be warm but with dropping humidity and developing sunshine. Highs in the low to mid 80s. Then Friday and Saturday look good with lots of sunshine. Highs in the mid to upper 70s and lows in the 50s to near 60.

Sunday we will see some question marks because by then a tropical storm will be offshore based on the latest weather model runs. At this stage it appears that the system now known as Tropical Depression 9 will be offshore by several hundred miles. This will add to rough sea conditions. As to the weather on land there could be cloud issues depending on the wind. Highs will be in the 70s. Right now it DOES NOT APPEAR TO BE A DIRECT THREAT TO NEW JERSEY…AND THIS IS NOT JUST LIKE SANDY!
The map above is the GFDL model at 2am Monday when the system makes its closest pass to New Jersey. Again this is only an issue regarding high surf and rip currents if this model is correct. There are still some variables to consider and we tackle that on our latest JOESTRADAMUS post.
FiOS1 News Weather Forecast For Long Island
FiOS1 News Weather Forecast For New Jersey
FiOS1 News Weather Forecast For Hudson Valley
LATEST JOESTRADAMUS ON THE LONG RANGE
Weather App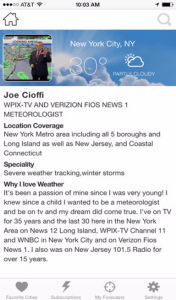 Don't be without Meteorologist Joe Cioffi's weather app. It is really a meteorologist app because you get my forecasts and my analysis and not some automated computer generated forecast based on the GFS model. This is why your app forecast changes every 6 hours. It is model driven with no human input at all. It gives you an icon, a temperature and no insight whatsoever.
It is a complete weather app to suit your forecast needs. All the weather information you need is right on your phone. Android or I-phone, use it to keep track of all the latest weather information and forecasts. This weather app is also free of advertising so you don't have to worry about security issues with your device. An accurate forecast and no worries that your device is being compromised.
Use it in conjunction with my website and my facebook and twitter and you have complete weather coverage of all the latest weather and the long range outlook. The website has been redone and upgraded. Its easy to use and everything is archived so you can see how well Joe does or doesn't do when it comes to forecasts and outlooks.
Just click on the google play button or the apple store button on the sidebar for my app which is on My Weather Concierge. Download the app for free. Subscribe to my forecasts on an ad free environment for just 99 cents a month.
Get my forecasts in the palm of your hand for less than the cost of a cup of Joe!
MENTION JOE CIOFFI AND GET A 5% DISCOUNT