Cooling Trend Next Several Days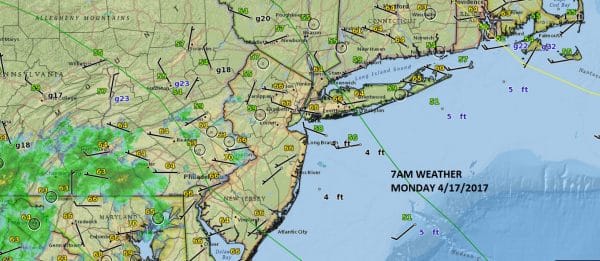 Cooling Trend Next Several Days
Overnight temperatures did not drop off all that much as we are in the upper 50s to mid 60s this morning. The launching pad would be set except that we are on the other side of the a cold front that has passed through. Cooler air will be gradually working its way southward offsetting the daytime heating. Highs today will reach the low to middle 70s but that should be it for top side temperature wise today. There are some showers across Southern Pennsylvania this morning. The HRRR stretches these showers into Central New Jersey to about NYC this morning before they weaken and shift southward.
COOLING TREND HRRR MODEL CLICK TO ANIMATE
Areas north and west and north and east of NYC should not have any shower issues today.  The satellite loop this morning shows clouds pushing eastward and dry air coming down from the Great Lakes at the same time. Eventually the dry air wins out.
SATELLITE LOOP

REGIONAL RADAR

LOCAL RADAR NEW YORK CITY
LOCAL RADAR PHILADELPHIA

Tuesday will be noticeably cooler with sunshine and a developing onshore wind later in the day. Temperatures will be just into the 60s. Then we watch the next in a series of weather systems begin to approach on Wednesday with increasing clouds and the chance for showers with highs in the 60s. Thursday could be the one warm day ahead of a cold front which means showers and thunderstorms possible and that threat continues through Friday. The weekend could time out dry but another storm system follows late Sunday into Monday of next week.

GET JOE A CIGAR IF YOU LIKE 
LANDSCAPE COMPANIES FOR YOUR NEEDS
             LONG ISLAND                                ROCKLAND COUNTY                   Connecticut
     ROCKLAND COUNTY                         TRI STATE SNOW REMOVAL                           JOHNSTOWN PA
FiOS1 News Weather Forecast For Long Island
FiOS1 News Weather Forecast For New Jersey
FiOS1 News Weather Forecast For Hudson Valley
LATEST JOESTRADAMUS ON THE LONG RANGE
Weather App
Don't be without Meteorologist Joe Cioffi's weather app. It is really a meteorologist app because you get my forecasts and my analysis and not some automated computer generated forecast based on the GFS model. This is why your app forecast changes every 6 hours. It is model driven with no human input at all. It gives you an icon, a temperature and no insight whatsoever.
It is a complete weather app to suit your forecast needs. All the weather information you need is right on your phone. Android or I-phone, use it to keep track of all the latest weather information and forecasts. This weather app is also free of advertising so you don't have to worry about security issues with your device. An accurate forecast and no worries that your device is being compromised.
Use it in conjunction with my website and my facebook and twitter and you have complete weather coverage of all the latest weather and the long range outlook. The website has been redone and upgraded. Its easy to use and everything is archived so you can see how well Joe does or doesn't do when it comes to forecasts and outlooks.
Just click on the google play button or the apple store button on the sidebar for my app which is on My Weather Concierge. Download the app for free. Subscribe to my forecasts on an ad free environment for just 99 cents a month.
Get my forecasts in the palm of your hand for less than the cost of a cup of Joe!