Cooler Drier Patchy Clouds Ahead Today Next Front Showers Friday Chilly Weekend
Yesterday's cold front and showers are long gone and we are going to have a day of patchy clouds and sunshine today along with cooler temperatures. We have a weak weather system coming out of the Midwest moving southeastward with clouds but no showers or forecast. Overall it should be a decent day with highs mostly in the 50s. Regional radar is rain free all across the Northeast and Mid Atlantic states.
SATELLITE

REGIONAL RADAR

Other than some patchy clouds there are no issues tonight however high pressure will be building to our  northeast setting us up for an onshore flow late tonight and Thursday. That will keep clouds in here on Thursday and hold temperatures down. Lows tonight will be in the 30s to lower 40s and highs Thursday will be in the upper 40s to middle 50s.
A stronger front will be approaching the East Coast Thursday night into Friday morning with showers likely ahead of it. There might be enough here for a thunderstorm when the front goes  by. Weather conditions should improve on Friday with clouds giving way to some sunshine, gusty winds and highs in the 60s early in the day and then temperatures slowly ease later on.
HIgh pressure will be building into the Great Lakes and we have low pressure coming out of the Southwest US and moving eastward across the Middle Mississippi Valley and then to the Mid Atlantic Coast Saturday night into Sunday morning. However that system will be weakening because it will be moving into a strong upper ridge along the East Coast which will weaken it as it moves along. This will create some high clouds Saturday along with some sunshine in the mix. It will be chilly with highs Saturday in the mid 40s to lower 50s. Sunday looks good with sunshine and fewer clouds with highs in the 40s.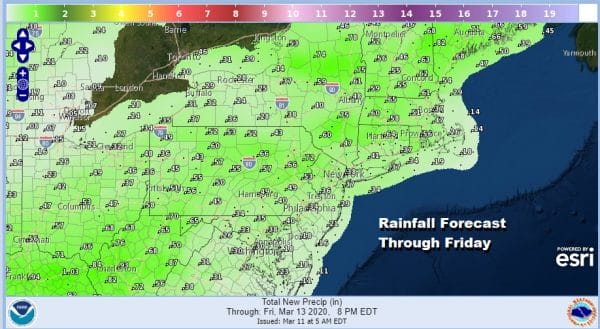 As far as rainfall totals for Thursday night look for amounts ranging in general of a quarter to a half inch with some isolated higher amounts. After Friday the next chance for showers will arrive late Monday into Tuesday with the next weather front going by.
MANY THANKS TO TROPICAL TIDBITS FOR THE USE OF MAPS
Please note that with regards to any severe weather,  tropical storms, or hurricanes, should a storm be threatening, please consult your local National Weather Service office or your local government officials about what action you should be taking to protect life and property.