Cool Dry New England Air Moving Southward
FISHING BOATS
Cool Dry New England Air Moving Southward
The satellite loop shows a lot of clear dry Canadian air to the north gradually working its way southward across New England and into Northern New Jersey, NYC, Long Island, Hudson Valley, & Connecticut. Clouds continue to hang on across Central and Southern New Jersey as well as Eastern Pennsylvania but some of this dry air should at least cut through the clouds this evening. Much of the area will be mostly clear tonight and cool temperatures are forecast especially away from coastal locations.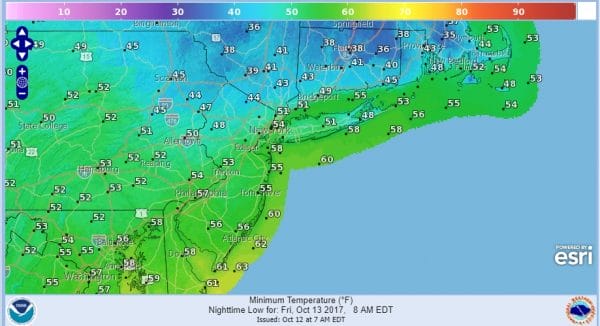 The clouds however will not be that far away and as high pressure moves off the New England coast Friday and out to the east that will open the door for those clouds to move back northward on Friday. The high to the north has been stronger than forecast so the clouds may initially have a tough time moving into northern areas on Friday. The day should start with some sun before clouds gradually increase. Temperatures Friday will hold in the low to middle 60s in most places.
SATELLITE LOOP

REGIONAL RADAR

As far as showers or concerned there isn't much happening at the moment. I don't believe there will be much too worry about Friday. Saturday we will begin a transition to a warmer more humid air mass but the onshore flow looks to be rather stubborn which will probably keep us in clouds and the chance for some showers or some light rain or drizzle. Cloudy skies for Saturday now seems like a given. Even Sunday with even warmer air moving in clouds may still be a bit of an issue. Temperatures Saturday will be back into the 70s & Sunday's highs could reach 80 or a little higher. Then a cold front comes through Sunday night which will usher in some real autumn air for next week. At least temperatures will be taken back down to near average for the start of next week.
SUPPORT BREAST CANCER AWARENESS


GET JOE A CIGAR IF YOU LIKE 
FiOS1 News Weather Forecast For Long Island
FiOS1 News Weather Forecast For New Jersey
FiOS1 News Weather Forecast For Hudson Valley
LATEST JOESTRADAMUS ON THE LONG RANGE