Coldest Night Of The Month & Winter Temperatures Rebound Sunday Monday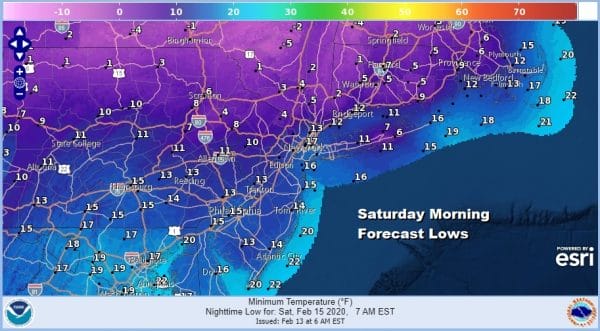 Up until tonight, the coldest temperatures occurred way back in mid December. Tonight we take out those lows as this quick shot of cold air plays through. Lows by morning will be in the low teens and single digits in most places. Wind chills this evening and tonight will knock off another 10 degrees or so off the temperatures so if you are headed out, do bundle up. Skies however will be mostly clear and at least we are seeing no rain or snow in the forecast into next Tuesday.
SATELLITE

REGIONAL RADAR

Satellite pictures have skies mainly clear from Southern New England to Northeast Virginia and beyond. Clouds are hugging around the Great Lakes as they usually do and they will thin out as well. Saturday we will have lots of sunshine and temperatures that will rebound rather quickly off the lows as highs reach the 30s just about everywhere.
The rebound continues Saturday night and Sunday and clouds will roll in. That will actually keep temperatures from falling too low Saturday night. Sunday we will have clouds and some sunshine with highs back in the 40s everywhere. If we get enough sun we could see some warm spots in Southern New Jersey and points southward approach 50.
A weak cold front comes through Sunday night with not much action other than some clouds that will eventually get swept out to the east. That leaves us with a President's Day with sunshine and highs mostly in the 40s.
Including today we are stringing 4 days in a row without any measurable precipitation. For the last two weeks we have been barely squeezing out a day of sunshine here and there so to have 4 days in a row with no rain and some sun is a good thing. Next Tuesday however the streak ends.
The next cold front with the next low heading to the Great Lakes and then New England means showers arriving later Tuesday into early Wednesday. This time around the front sags far enough south that even if a wave develops on it, it will likely only impact the Southeast US and not the Northeast or the Northern Mid Atlantic States. Dry air should return Wednesday with mostly seasonal or slightly below seasonal temperatures through the end of next week. The long range shows nothing of consequence regarding snow for the rest of the month of February which means the window for anything to happen regarding an area wide snowfall shrinks to a precious few days.
MANY THANKS TO TROPICAL TIDBITS FOR THE USE OF MAPS
Please note that with regards to any severe weather,  tropical storms, or hurricanes, should a storm be threatening, please consult your local National Weather Service office or your local government officials about what action you should be taking to protect life and property.