DOWNLOAD MY NEW FREE JOESTRADAMUS WEATHER APP FOR ANDROID
THE APP IS ABSOLUTELY FREE TO ALL BUT CONSIDERING SUBSCRIBING TO PATREON FOR A WEATHER EXPERIENCE FREE OF ADS, EXCLUSIVE VIDEOS FOR MEMBERS ONLY AND MUCH MORE…STARTS AT $2 A MONTH..MESSAGE ME AT ANY TIME

Colder Week Ahead Next Weekend Storm System Appears South For Now
The morning begins with the leftovers of the overnight fog which is dissipating rapidly. Weather conditions will improve this morning as a weak weather front pushes through and the west wind begins to pick up. It is still rather warm today with some sunshine developing and temperatures in the 50s. However the week ahead is going see a general downtrend in temperatures as the first of two cold air masses builds in. The satellite and regional radar loops this morning show some patchy clouds around and there are some showers moving along in Upstate NY & into New England. Radars will now shut down for awhile except for some lake effect action that develops over the next couple of days.
EASTERN SATELLITE

REGIONAL RADAR

Colder temperatures will be here for Tuesday and Wednesday. We should see partly sunny skies for both those days with highs settling back in the upper 30s and lower 40s and nighttime lows in the mid 20s to lower 30s. There is not much to worry about precipitation wise and specifically snow wise through Saturday. The next cold front will begin to approach late Thursday and Thursday night and behind it will be a re-enforcing surge of dry air for Friday and the start of the weekend. It will also be very cold for Friday into Saturday with highs just into the 30s and lows in the 20s and even teens in cold spots.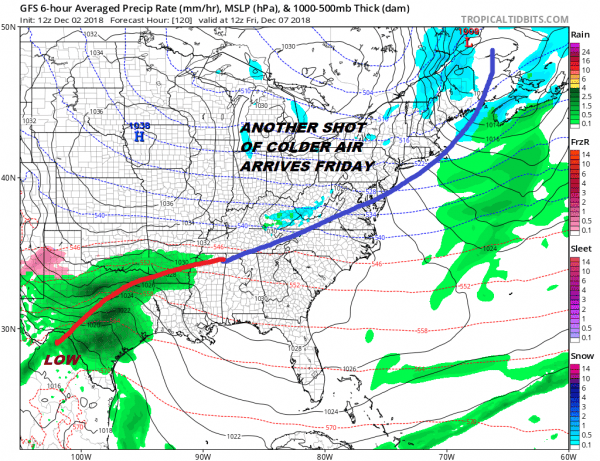 On the lower left we can see the beginnings of low pressure developing in the Southwest and moving across South Texas and eventually across the Gulf States. Weather models continue to show a rather strong northerly component of the jet stream and if that doesn't get out of the way, it would be quite likely that this system will wind up passing well to our south with no consequence here. The timing for this would be for late weekend and early next week.
We will be watching the northern part of the jet stream closely because that is what holds to key to all this. A more relaxed north would allow for room to bring that southern system further northeast up the coast where it has impact. The recent model trends have been for a busier more active northerly component of the jet stream . We are well over a week away with this. At least the pattern of the last 7 weeks of storms moving through every 2 or three days is finally taking a bit of a break.
MANY THANKS TO

TROPICAL TIDBITS

FOR THE USE OF MAPS
Please note that with regards to any tropical storms or hurricanes, should a storm be threatening, please consult your local National Weather Service office or your local government officials about what action you should be taking to protect life and property.
LATEST JOESTRADAMUS ON THE LONG RANGE