Colder Wednesday Through Friday Major Storm Offshore Saturday But How Far?

Weather in 5/Joe & Joe Weather Show Latest Podcast
Colder Wednesday Through Friday Major Storm Offshore Saturday But How Far?

Even in the coldest pattern, you always get one of these days where you warm up in between cold masses giving a short but deserved break and today is the day. A warm front went through overnight. There are some clouds around on the satellite but we should see some sunshine in the mix today. The warm up is short lived because we do have yet another arctic cold front that will come through this evening. Unlike the other fronts over the last several days there is little if anything with the front other than a wind shift to the northwest. Highs today will reach the low and middle 40s.
SATELLITE

WEATHER RADAR

Radar is showing some snow showers in Upstate NY and in Northern New England. None of that is coming here. We move along then to skies clearing out tonight and temperatures will turn colder. By morning most lows will be in the teens to near 20 in warmer urban areas. Inland areas will see temperatures drop down into the single digits well north and west of the big cities.
Wednesday will be a cold day with sunshine and so will Thursday but both days will be cold. Highs Both days will be in the 20s. That means Wednesday night into Thursday morning will be very cold with lows in the low teens in most warmer urban areas and the coast and single digits inland. This leads us to Friday and we begin to set the table for a developing storm off the southeast coast and moving it northeast for Friday night and Saturday.
THE FAMOUS HALF BLIZZARD OF JANUARY 26-27 2015
Back on January 26-27 2015 Southern and Southeastern New England, and Long Island were utterly clobbered by what became known as the "Half Blizzard". It was called this because when it was all said and done half of the forecast area from Eastern Pennsylvania to Southern New England got absolutely nothing. In fact if you drew a line down the Hudson River to NYC and the Jersey Shore, skies were clear and the the moon was out. Meanwhile just 5 miles to the east on Long Island from Northeastern Queens NY was a wall of heavy snow. Up to a foot of snow fell there and then cross the county line into Nassau and Suffolk and we saw 15 to 25 inches of snow. Southern and Southeastern New England got 20 to 35 inches in some places.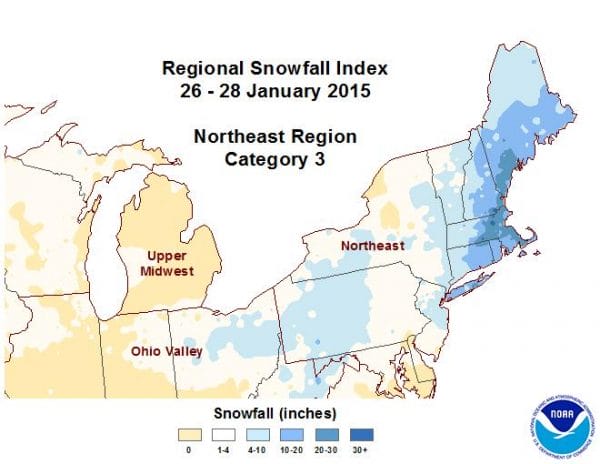 I put this up as an illustration regarding the storm system that we are dealing with Friday night into Saturday in that this could be something similar where there is a very sharp cut off from no snow to heavy snow over a matter of miles. All the models show a deepening storm to our east passing near or to the east of what is known as the "bench mark" which is 40 degrees north 70 degrees West. Storms that pass near the benchmark have a history of producing big snowfalls but there are exceptions both to the west and east of there that have produced big snows for Southeastern New England and little to any snow elsewhere.
Nothing happens exactly the same way in weather but systems do tend to rhyme somewhat. There are differences between this storm and the 2015 storm but what may be similar is the sharpness of the cutoff line between no snow and heavy snow and just where will that line be? Overnight runs of the GFS have a track to the east and far enough to the east to miss the big cities of Philadelphia and NYC but it does bring heavier snows from Long Island and Connecticut eastward and buries Southeastern New England or is it further west like the very aggressive European run from overnight which has the storm so far west that it buries everyone or is it even further east where just Southeastern New England and Cape Cod get buried with little or nothing elsewhere?
The answer as we have been saying for days is a simple one and it lies in the strength of the approaching upper trough in the Ohio Valley. The European is very aggressive with the trough taking on that negative tilt which would create a major intensifying storm just offshore. The GFS below on the other hand has a broader trough that doesn't sharpen up until it reaches the coastline which means the storm misses the big cities with big snows and that Southeastern New England gets heavy snow and maybe back to Easternmost Long Island and Eastern Connecticut. Any further east it could miss everyone.
If we go by recent history of the last 10 days, all the storm systems in the South have passed well offshore with no issues here. "Trend is your friend" approach says this one passes to the southeast with minimal issues except maybe for Eastern Long Island, Eastern Connecticut and Southeastern New England. On the other hand the storm 2 weekends ago which started out right and then at almost but not quite the last minute went way left and this will be another major storm verses the minor ones of the last 10 days. Two arguments against the close to the coast track would be the lack of storms out in the Atlantic which would help the storm to move more northward and eastward. The second is that the European model which is arguing for a close to the coast track has been at best horribly inconsistent. Clues from other models are going in both directions. Here is the bottom line. We probably won't know for sure for another day or two. Expect models to continue to move around but generally tighten up their tracks. We will leave it as a risk for snow Friday night and Saturday and watch to see whether it will be a sharp trough or a weaker more progressive trough. Watch the upper air maps for answers.

Please note that with regards to any severe weather,  tropical storms, or hurricanes, should a storm be threatening, please consult your local National Weather Service office or your local government officials about what action you should be taking to protect life and property.