Colder Pattern Ahead Next Few Weeks
DO YOUR CHRISTMAS SHOPPING IN THE JOESTRADAMUS STORE
Colder Pattern Ahead Next Few Weeks
Looking backward at the weather of the last few weeks it becomes clear to me at least that the major storm from October 29th was probably the major driver in shifting the entire pattern across North America around. The ridge in the Eastern US is gone and all models show signs of high latitude blocking. What this means is that the jet stream pattern will be displaced southward into the United States with colder than average temperatures going forward. Whether this translates into any kind of storm activity is another matter. We can say that the unrelenting warmth of September & October are done for now.
COLDER PATTERN AHEAD CLICK TO ANIMATE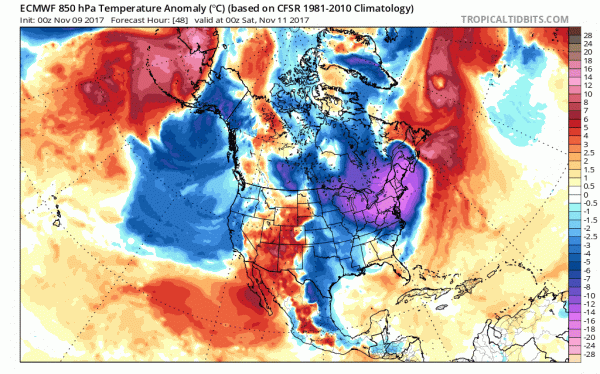 This morning clouds are passing by to our south as a wave of low pressure moves to the east. To the northwest we have clouds swinging across the Great Lakes marking the leading edge of the cold shot of air that will be here for Friday into Sunday morning. We may see some passing clouds today and there is the risk for a shower late this afternoon and evening as the front passes. Highs will be in the 50s.
SATELLITE LOOP

REGIONAL RADAR

Cold air arrives on Friday as advertised. Temperatures will fall into the 30s Friday and stay there all day. Record lows for Friday could be achieved after sunset when temperatures head into the 20s. Another round of record lows are probable Saturday morning with lows in the teens to mid 20s. Friday and Saturday will both feature sunshine. Saturday highs just in the upper 30s and lower 40s. Sunday we will see sunshine give way to arriving clouds with highs back in the 40s to near 50. No major storms are on the horizon at the moment.

GET JOE A CIGAR IF YOU LIKE 
FiOS1 News Weather Forecast For Long Island
FiOS1 News Weather Forecast For New Jersey
FiOS1 News Weather Forecast For Hudson Valley
LATEST JOESTRADAMUS ON THE LONG RANGE